Songs for Sound uses a passionate and compelling story about hearing loss & music to create awareness, increase access and encourage action around untreated hearing loss. SFS aims to give HOPE to 1,000,000 people by 2025 by connecting them to life-changing hearing health resources.
We do this through OUTREACH by providing free hearing screenings and increasing awareness of hearing health information and resources. We then provide full-service support through our Care Team, a group of hearing health advocates and guides. Finally, our Hardaway's Hope programs provides lifetime support helping people thrive with hearing loss and hearing technologies.
Let love be our greatest aim.  1 Corinthians 14:1
Read this inspirational story on the girl behind the mission, Lexi, written in January 2023. This is a well-written article on her story, our mission and and the success of someone can now hear and thrives in life with cochlear implants.
EXTRAINNINGS SOFTBALL
The Amazing Journey of Lexi Vernon: Born Deaf, the 2026 Star Pitcher can now Hear and is the Inspiration Behind and Impactful Mission.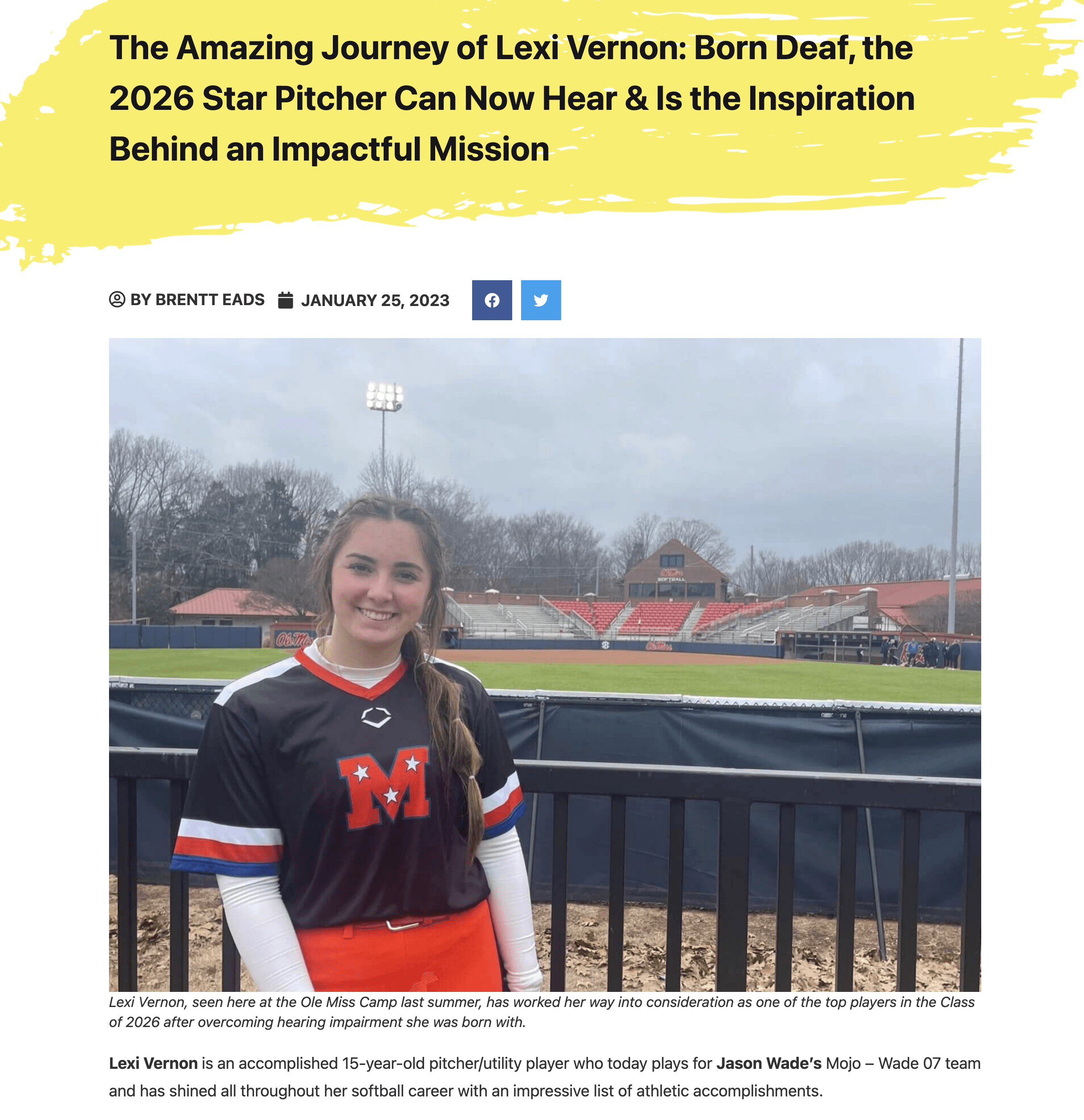 HISTORY
In 2009, a working mother named Jaime Vernon, took her daughter, Lexi, in for a full hearing test. After 13 months of bad information, misdiagnosis and all her suspicions being dismissed as "fine", Jaime heard those fateful words, "Your child is deaf." Lexi, now 13 months of age, had missed over a year of hearing and language. From no newborn hearing screening given to a failed hearing test at 10 weeks of age, Jaime repeatedly heard "she's fine."
Upon the deafness diagnosis, Jaime felt hopeless and imagined total isolation for her daughter. Her thoughts scattered to Lexi living away from home for a special education even picturing a place with trees with no leaves, then suddenly she heard these words from Lexi's Audiologist, "we think Lexi will be a great candidate for a cochlear implant, a device that brings back sound to the deaf."
The heartache and fear were immediately replaced with HOPE. Four months later, Lexi, 18 months of age, was implanted bilaterally (both ears) with cochlear implants. Three weeks later, now 19 months of age, Lexi's sound was turned on for the first time. Her journey to hear and use spoken language began.
Now, Lexi is 12 years old and thriving at the academically and athletically challenging Brentwood Academy (Brentwood, TN), is a very good travel softball pitcher playing for the elite program, The Birmingham Thunderbolts. She hears very well and her speech is incredible. Lexi loves to hear laughter and to laugh. She listens to music often through her bluetooth capabilities of her cochlear implants and plays softball, basketball and volleyball.  
The "songs" in Songs for Sound is because of all the lullabies Lexi missed. Her mom, Jaime, would cry, not understanding why her daughter wouldn't respond to her. Every doctor said "she's fine". Once Lexi could hear her mom, there was a moment Jaime felt her head fall onto her shoulder while singing her to sleep at 21 months of age. At that moment, Jaime recalls "time stood still. I never wanted anyone to go without a lullaby, the music playing while dancing with their daughter at her wedding, or healing while listening to music when a loved one passes away."
SONGS FOR SOUND WAS BORN....
Jaime's passion is to help everyone navigate their hearing health journey and reach their greatest potentials. Whether it's a parent of a newly diagnosed child or a senior in search of affordable hearing aids, Jaime does whatever it takes to help people hear. Providing good information and support is very important to Jaime. 
Songs for Sound creates a tailored pathway to empower people to take control of their hearing health journey. We LISTEN, counsel and help people reach their fullest potentials by providing the best hearing resources and information and walking hand-in-hand with people. We clear out the clutter and find a personalized matches for audiology, devices and therapies based on the needs, wants and financial situation of every single person. Simply put: we listen, we become a friend, we love and we help. 
Lexi Vernon hearing for the first time at 19 months of age