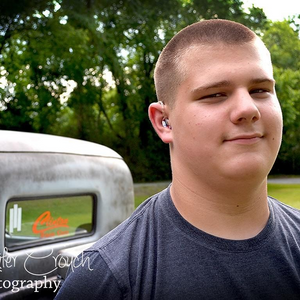 Jace Chapman
Jace Chapman is one of the coolest young men you'll ever meet. He hunts, loves football, enjoys hanging out with friends and loves country music. The first time Jace graced us with his natural charm was as a young boy. Our family met him when he played football as a young boy. Most boys play football, right? Well, Jace lives with both hearing loss and cerebral palsy. Yet he braves each and every day with such joy, humor and a positive outlook that is contagious. 
Because of this joy he brings to any room or circumstance, and the time he brought our charity a bag full of stuffed animals for children with hearing loss, we couldn't help but give every type of support to families in his name. He's earned it by being an incredible human being. 
1. Healthy hearing is VITAL for brain function & emotional health.
2. We need to be able to hear to communicate with the world around us. 
3. When we can't hear well, we withdraw.
We are here to help! If you or a family member are struggling with hearing loss, submit a request below. We'll reach out to determine next steps/provide counsel and direction on how to get you the help you need. Tell us how we can help your personal hearing loss story.
Please Help Me Hear!