PLEASE CONSIDER TAKING THE SURVEY REGARDING OUR OUTREACH TO HELP US SERVE AMERICA BETTER!
DYK? On average, it takes seven years from "I think I have a hearing loss" to getting help.
To request the Hearoes Tour, a Hearing Health Experience to make a stop at your school, business, charity or organization, email:
Gina Bailey - gbailey@songsforsound.com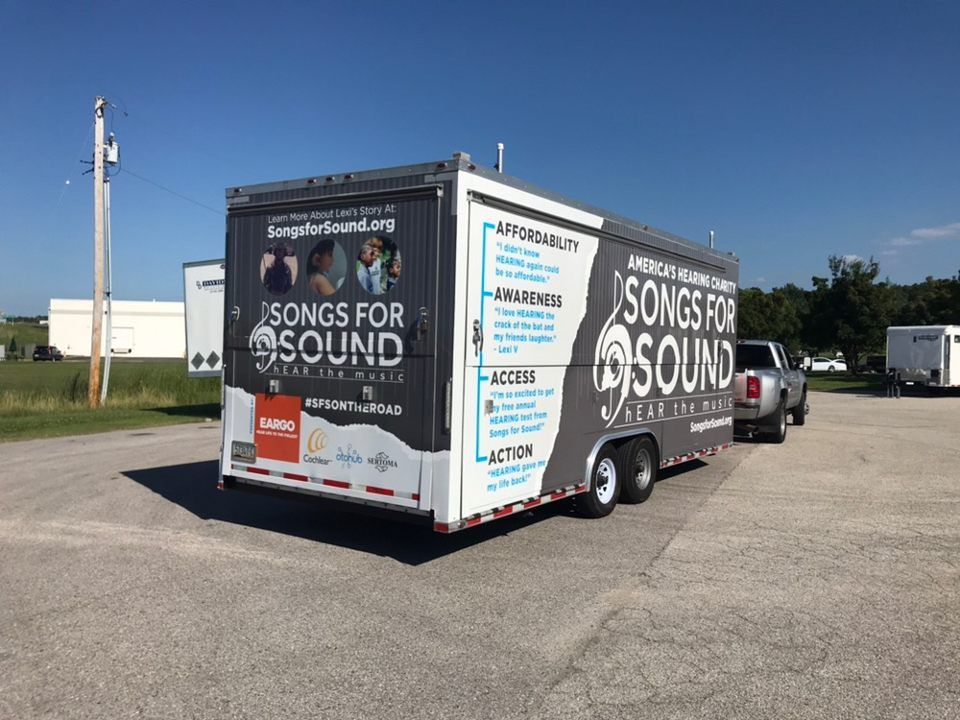 Click links below for Next Steps of Care:
The Hearoes Tour is a 365 day, MISSION PROJECT & Tour serving AMERICA.
TOUR CALENDAR HERE
It's a comprehensive, NO COST interactive hearing health experience focused on the following:
Awareness - We educate on hearing loss & deafness, solutions, technologies, Audiologists and ENTs.
Access - We provide no cost testing solutions, free electronic & hard copies of results and a care package of information to equip participants to take charge of their hearing and ears.
Action - We encourage action through a consultative approach. SFS staff & volunteers with hearing aids and cochlear implants encourage action by providing information from kiosks, telling stories of hope and giving love. 
The Hearoes Tour is a 365 day a year, MISSION PROJECT touring across the United States. We believe the only sustainable model for hearing health outreach is to EMPOWER individuals to take action regarding their hearing health. This hearing health experience offers a multi-faceted mobile clinic including resources, state of the art testing technology, electronic and printed results along with easy to follow checklists to get you through next steps accessing existing Audiologists in your area. 
Our Hearoes Tour & mobile clinic tours the nation with over 220+ event stops every year, providing up to 7,000 people a year with:
NO COSTS HEARING TESTS
NO COST HEARING PROTECTION at all events including special partnerships with traditionally loud events (auto races, air shows & more)
NO COST CONSULTATION, kits and connections to the best technology, connections to local hearing centers
FINANCIAL SOLUTIONS, information on hearing benefits, health insurance navigation and support
HARDSHIP PROGRAMS; when funding is not an option, we support those in hardship connecting them to partners offering no cost hearing aids, cochlear implants, caption-telephones and more
FOLLOW UP; we never leave you. We continue to follow up through various means of communication for all who opt-in
You can get tested, find an audiologist and demo hearing technologies in just minutes aboard the clinic. You will walk away with printed results from your hearing exam, a clinic finder and a checklist of next steps depending on your hearing level.