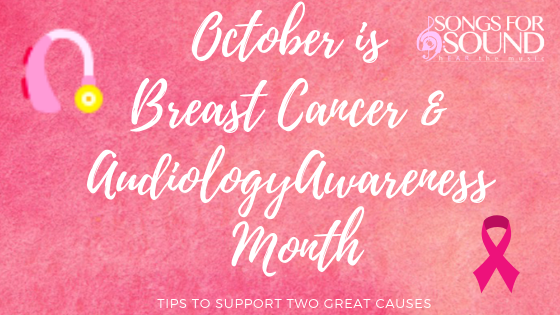 Happy October! That's right: fall is officially here, and the month of October brings with it all of our favorite fall activities. From football games, to hayrack rides, to picking out the best-looking pumpkin at the pumpkin patch, October is a month full of fun and festivities. 
However, for some people, October can mean so much more than pumpkin spice and knit scarves. In fact, since 1985, the month of October has been known as National Breast Cancer Awareness Month & Audiology Awareness Month. 
Needless to say, Breast Cancer Awareness & Audiology Awareness Month is an extremely important time for many people in October. Including me. Yes, I'm the founder of SFS and I'm so passionate about everyone having healthy hearing, an audiologist and access to great hearing technology. However, I'm also passionate about Breast Cancer Awareness. My mother passed away nearly 12 years ago of breast cancer. And ironically, chemotherapy and radiation have some side effects. Of the top side effects, HEARING LOSS is one of the most common. So here we are. Two heartbreaking subject matters have both hit me close to home. My mother died of breast cancer and I have a deaf child with cochlear implants. Let's chat a little about them both today and support the end to cancer and hearing loss. 
Cancer drugs can kill the hair cells in the cochlea. If you've had anyone in your family undergo cancer treatments, please ensure they get annual hearing exams. If there is a loss, hearing aids and cochlear implants have never been more attainable than they are today. 
We've served after-cancer treatment centers with our free hearing clinic and we've detected possible hearing loss in over 70% of individuals. 7 out of 10! 
What if my family member has hearing loss? How can they afford to get help?
Insurance companies are steadily adding policies for hearing health. Make sure you check your benefits to see if an annual hearing exam is covered. Also check if there is a reimbursement in your state for hearing aids, or included in your plan.
Companies like Epic Hearing offer great low payment plans, leasing options and more for hearing technology. 
To help your family member, visit our HEARING LOSS RESOURCES page for checklists, clinic finders and more! 
Don't delay. 
Breast cancer and hearing loss are linked in a huge way. EARLY DETECTION IS THE KEY. You have to stay ahead of both of these diseases. If you catch breast cancer early through self-checks and mammograms, your likelihood of survival is high. If you detect hearing loss early, you can preserve the hearing with quality hearing aids from a quality device companies such as Phonak. 
Be AWARENESS.
What's one of the trademark colors for Breast Cancer Awareness Month? Wearing pink, of course! Over the years, the color pink has become virtually synonymous with breast cancer awareness, thanks to a few different nonprofit organizations who popularized the brand. If you want to show your support and start the conversation this month, be sure to wear pink when you go out and about during October. However, wearing pink is virtually useless unless you do something with it, so be intentional about starting conversations with other people and using the pink to raise more support.
You can support HEARING LOSS AWARENESS and donating to our mission by visiting our
BE A PART OF THE CHANGE by HELPING YOUR FAMILY MEMBER OR VOLUNTEERING.
You are the way we change things. If someone isn't feeling well, you encourage them to seek help. Encourage your friends and family members to get mammograms and annual hearing exams.
WE NEED VOLUNTEERS! Join us at a stop across the USA on our Hear the Music Project, a hearing health tour, join us on mission trips or DONATE. 
OCTOBER is more than Fall...it's a time to be a part of two amazing causes, Breast Cancer Awareness and Audiology Awareness.