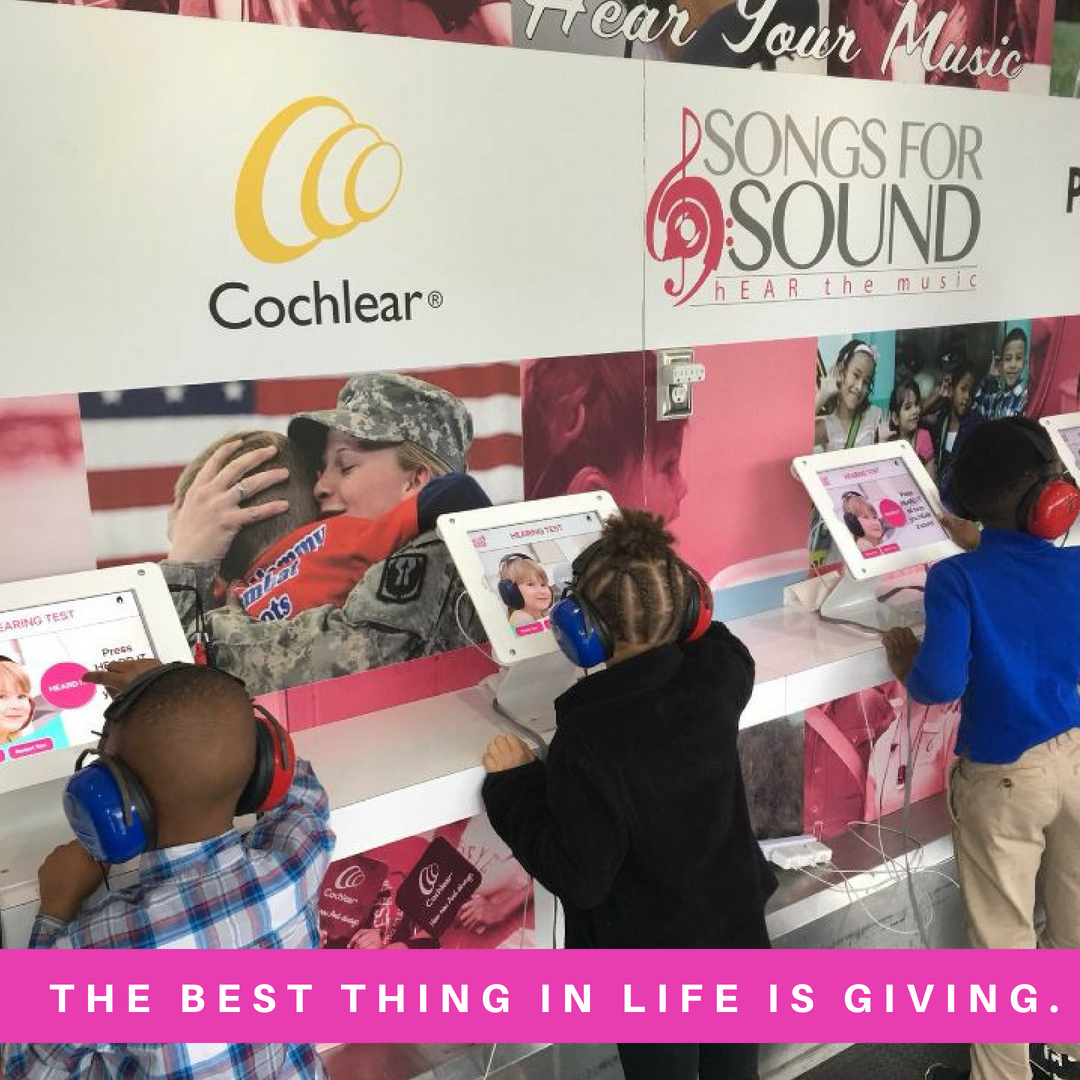 Every time we host one of our charity fundraising events or host a stop on our Hear the Music Tour, I meet so many people who eagerly say "I've always wanted to start a charity, I have this idea. Can you help me get started?"
I'm constantly preaching "use your story", "do something with your testimony" and "change the world", so it's time I give back something different so others can give back something different. I'm gonna write far more on the topic of starting, managing, and operating a charity.
Let's start here. HOW DID I GET STARTED?
1. Sweat Equity & Sacrifice
2. Perseverance
3. LOVE
SWEAT EQUITY & SACRIFICES
LAZY ISN'T A WORD YOU CAN EVER SAY AGAIN. The single most important thing you can offer up to a GREAT IDEA for serving others is HARD WORK AND GRIT. If you think the smile on the person's face is enough for you, think again. I can count on a million fingers and toes how many days of planning go into raising money for a single person. This is not for the weary folks.
In year three, I recall going into a venue for a sponsored table event. I had an assistant working for me at the time in her spare few hours a week. We spoke with the venue on repeated occasions about chairs and tables. They assured us they were provided. We had it in writing in an email for goodness sakes!
So when we showed up to set up at 11 am for a 6 pm event, which by the way had over 25 SPONSORED TABLES ALREADY SOLD, imagine my joy when the room attendant stated, "there must be a mistake. We don't offer tables and chairs. You have to rent those elsewhere." Within two hours, I had called several locations and I was physically carrying chairs and tables in at 4 pm to rush and add the décor.
Sure, now, I have a better handle on all of it, a more flexible schedule, I can work on the go, I have a team of employees, but for nearly six years, I was doing most of the hard labor, the travel, the set up. And still to this day, if anyone goes down, I have to figure out the replacement or do it myself. For six years, I left my family on weekends to host events for those with hearing loss and deafness all over the country.
However, seeing someone HEAR again or for the VERY FIRST TIME is worth every sleepless night. Your mission is worth it. Just be ready to go hard or go home.
PERSEVERANCE
DON'T LET TROUBLE, MEAN PEOPLE OR "LOW-ON-FUNDS MONTHS" GET IN YOUR WAY OF HELPING OTHERS. PERSEVERE. Had you told me raising funds for major hearing programs would have been as difficult as it was, or have as many strings attached as it did, or honestly nearly put me into an early grave, I likely would have stayed in the for-profit world.
But now, I'm even stronger of a woman, mom and leader than I ever was before. Why? Because I learned to work through NEW problems.
At the end of the day, if this thing doesn't work out, it won't kill you. You'll survive. So go into each day and face each difficult time with the same attitude.
In the third year, I recall hosting a fundraiser during one of the most difficult times in my life (outside of losing my mom to breast cancer and hearing Lexi was deaf a few years prior). While both of those circumstances were awful and difficult, I'm 1000000% better because of them and they each prepared me for these next "charity event" battles.
Back to this very difficult time in my life and hosting a major charity event....My husband, Kevin, had just had a major accident including TWO surgeries to save his hand. During that time, I was hosting a fundraising event in another city for a major hearing program. I recall ZERO grace that I was sitting in a hospital room taking a conference call for a fundraiser. The demands of the event were far more than we had expected. Emotional tolls were greater than most programs, a ton of tit for tat about the smallest issues. However, their work with deaf children was and is remarkable. It's a program we should support.
We had a record fundraising event and the very next day, the same person who felt like they were on top of a mountain during the fundraiser, sent me a FIVE paragraph email about how awful seating arrangements were, or that we didn't use real china or, or, or. If you know me, I save as many dimes as I can to keep the money about the mission. So while I left my home, flew across several states with little Lexi by my side, helped set up an event with the most amazing talent from Nashville, called in 1000 favors and then donated 75% of all proceeds back to that org.
POINT? LET IT GO. Use it. Be a better leader with more compassion because you never want others to feel this way. Be kinder to others. Learn from the times you want to quit or crawl under a rock. All of it is God PREPARING you for your next big idea and big mission.
LOVE
AND THE GREATEST OF THESE IS LOVE. Jesus told the people that out of all of God's commands, you must love God first with all your heart, then because you understand that kind of love, you love OTHERS as yourself.
I'm not beating you over the head with a Bible, this is simple stuff folks. Just like you can't make a cake without flour, we cannot change the world without a key ingredient: LOVE.
Serving our sweet mission in Eden, Jamaica, y'all…we've given them free hearing tests and (2) sets of hearing aids through the years. They lost the first set. It can be difficult to understand how the tears of joy they cried when they heard sound for the first time, dried up so quickly due to a lack of a simple system….putting away hearing aids.
But you haven't been there. It's not a place where systems make sense. They have so little. So little money, so little food, so little help. Going and meeting them for the very first time, having such a love of the deaf, I am DRAWN to them. I LOVE THEM. So we'll keep trying. We'll keep loving them until we figure this thing out.
If you don't have LOVE as the key ingredient to your mission, stop and rethink EVERYTHING. If you've lost your love, go do something radical to change those you're serving. FIND IT. YOU'VE GOT TO LOVE.
More to come....start here. Now, it's time to get your ideas on paper.
WEEK ONE'S HOMEWORK:
1. Make a list of all of the reasons you want to start your charity. These should be the things that break your heart.
2. Make a list of your goals.
3. Start plotting out your strategy. How you want to change things. We'll get to a business plan soon...