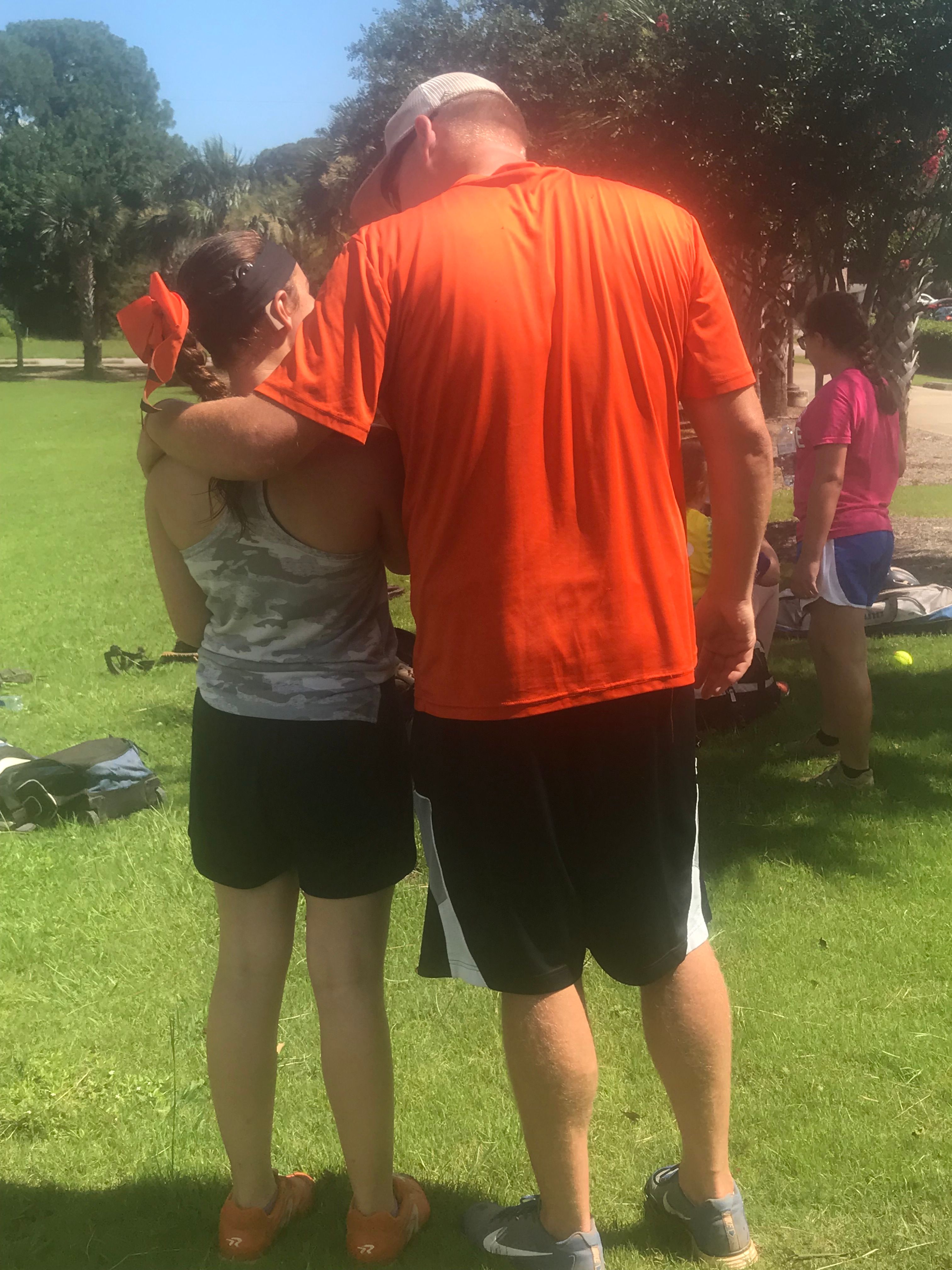 Watching Lexi battle girls at the plate as a fastpitch pitcher is like a movie to me. Maybe it's because I train her six days a week or because I travel with her by car seven hours away to see her pitching coach, Jonathan Hon, in Chicago.
Whatever the case, it's an art, a movie. She meticulously uses every muscle in her body in unison to throw the perfect pitch which was called in by her coach. Lexi now has a fastball, a riseball, a screwball and a change up. She's TEN YEARS OLD, y'all. She's hit speeds of 53-54 mph. She's ten..and she was born profoundly deaf.
I'm not bragging on her, although I'm seriously proud. I'm giving a testimony. I'm telling every person with hearing loss technology that persistence, going as hard as you can and testing your limits in ALL phases of rehabilitation is absolutely the key. These things aren't just the key to HEARING optimally, they are the keys to LIVING LIFE optimally.
I remember the first day we left Lexi's "activation day". Activation day is the day someone with cochlear implants has healed from surgery and is ready to have their cochlear implants turned on and programmed. They match or "map" the external processor to the internal implant embedded in the cochlea and attached to the hearing nerve.
Our amazing Audiologist recommended that some people start in softer environments. She said you have to know your child and allow them to adjust to sounds and noises at their pace. I knew Lexi had zest and zeal from the moment she was born. She's baby #2 like I was. We don't play around. We test limits, we push, when you draw the line in the sand, we leap over it.
Watching Lexi hear for the first time was certainly cause for celebration and dinner out. So I paused for a moment wondering, "should we test her ears in a noisy restaurant?" I looked back at her in the car seat and can remember telling Kevin, "let's go. She's ready for so much more than she's been given so far."
Sure enough, at O'Charley's in Bellevue, TN, Lexi heard her first sounds of a restaurant. One of our favorite human beings to this very day was our waiter, Ronald Ware. Ronald also has the Lexi/Jaime zeal for life. He's a fantastic dancer, hysterical and a world-changer. How very appropriate he was one of Lexi's very first HEARING AND SPEECH ROLE MODELS. She reps his sass daily.
So this week, I'm watching Lexi and her Tennessee Mojo teammates battle teams in the USSSA World Series in Fort Walton, Fl. Do you think she would have this push, perseverance, drive and stamina had I been okay with average?
I've heard so many people mention how hard I am on Lexi; the looks when I am full of life with her every single pitch. However, I DON'T CARE. She can HEAR me and she needs to HEAR every sound God has gifted her with, even an adjustment to her pitch.
Lexi attacks homework, tutoring, athletics and even friendships with a persevering nature. She wants the very best in everything she does and for everyone she loves.
So when someone tells you to slow down, don't push, lay off, I'm going to tell you that is the very time to dig in your heels and demand your best or your child's very best.
Our purpose, our gift and testimony given to us by God Himself is to USE IT. Show the world that all things are possible through HIM and be an example for how hard work and perseverance pays off.
STEP BY STEP GUIDE:
1. Wake up every day expecting today will be better than the day before.
2. Push yourself a little more today than you did yesterday.
3. Adults: for listening and hearing better, try this: print lyrics to your favorite songs and practice listening to those songs. You will develop your ability to listen through noise and hear language better!
4. PARENTS: immerse your kids in environments rich with chatty peers and language! Never think they can't handle it. They will develop a skill of self-monitoring when things get overwhelming and it can be a LIFE SKILL!