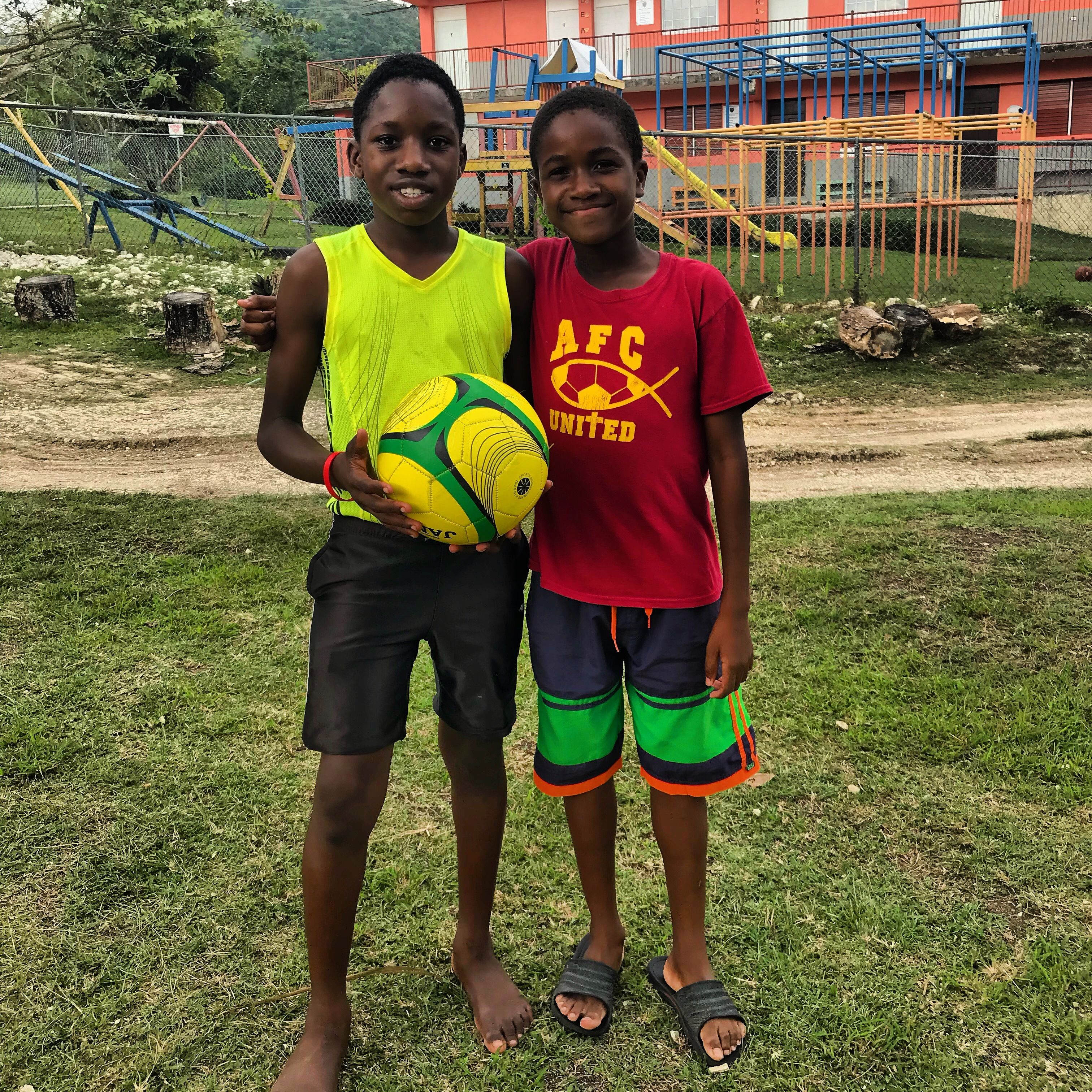 Having just arrived at the school, I walked down the sidewalk. Keddon was coming from the other direction. Keddon is a 12 year old boy and one of the deaf children at the Jamaica Christian School for the Deaf, a school we've served on four mission trips. He wasn't paying much attention as he looked down at his feet. I kept walking towards him, waiting to catch his glance.
It has been over a year since I've seen the children at JCSD and two of them own my heart in a maternal way. Keddon and Delano. Both deaf, both lacking a parent. Keddon's father died and his mother doesn't know how to care for him, so rarely accepts his return on breaks. Delano's mother left him to move to the states with the other siblings, leaving Delano behind with his father who's health is not well.
As Keddon walked closer, he finally glanced up. His eyes briefly saw me as he shifted his head back towards the ground and after it immediately hit him, he quickly looked back up, his eyes as big as saucers. He ran towards me with his arms stretched open wide. WE HUGGED EACH OTHER SO TIGHTLY in a way we both needed. LOVE. We speak very different languages; I use English spoken language, he uses JSL, Jamaica Sign Language. But we both speak another language: LOVE.
When I founded Songs for Sound seven years ago, I had no idea what God had in store. Seemingly, I was supposed to create awareness programs in the US to find babies & children who were deaf, undetected/undiagnosed (missed), unaware, underserved and in need of cochlear implants. Mostly rural America. My thoughts were, "we're looking for those children who are too far from a clinic to receive care."
Yet deep down, I knew the problem with hearing loss was much more complex. Lexi, my very own Lexi, the child who started it all, was also missed in METRO Nashville at a pediatrician's office seven minutes from Vanderbilt....on the very same road.
As SFS grew and we launched our mobile hearing clinic, we realized hearing loss is EVERYWHERE. Yet hearing awareness is often nowhere.
We made it our mission to change that. Let everyone know about their hearing levels through our free screenings, inform everyone of their options, make sure they know where to go to get care and help walk them through the process with out of the box tools like "hearing checklists" and more.
So when I was approached by a colleague about helping a deaf school in Jamaica, it really wasn't a shock. God had been preparing my heart for something overseas. And four years ago, I started doing SOMETHING.
Now four trips in four years later, it's all become very clear. Hearing loss stinks. While I understand we are all created in God's image just like my Lexi, being deaf and unable to hear and communicate can lead to a very difficult life. I also know the man who invented the cochlear implant did it with close guidance and prayer with God. The device which allowed the deaf to hear was a GIFT from God to those who choose it.
After giving these children their first hearing tests EVER, bringing team after team to provide hearing aids, no Audiology and Speech support results in devastating consequences for those with deafness in developing nations.
Jamaica already has 80% unemployment, so add in a graduate who cannot communicate using spoken language, well, you can guess who will likely get the job...the deaf young person or the hearing young person. It's a horrific reality, but it's a reality nonetheless.
This trip was different. I had an urge to go and observe. Meet with the school professionals. Talk with other partners serving the school or the deaf in Jamaica.
I took Lexi, a deaf child who can speak, has an incredible education, hears a whisper. I was able to contrast and compare all offered through the Deaf Village, the school JCSD or what is not offered.
Ironically, the same issues for those with hearing loss/deafness here in the US affect those in Jamaica.
- LACK OF AWARENESS
- LACK OF ACCESS to hearing tests and technology/services
- LACK OF JOB OPPORTUNITIES and support for those with HEARING LOSS/DEAFNESS
Coming away, here's our takeaways:
1. PARTNERSHIPS with COMPANIES with a presence in Jamaica. JOB OPPORTUNITIES for the deaf/hoh; light assembly jobs, hotel jobs, farming jobs...also a floating coordinator who overseas their employment.
2. AWARENESS, AWARENESS, AWARENESS for hearing loss, deafness, solutions.
3. SOLUTIONS: Audiology, Speech therapy, Technology such as cochlear implants or hearing aids. Support.
To serve, visit our HOW TO HELP page and sign up and reference "JAMAICA MISSION".