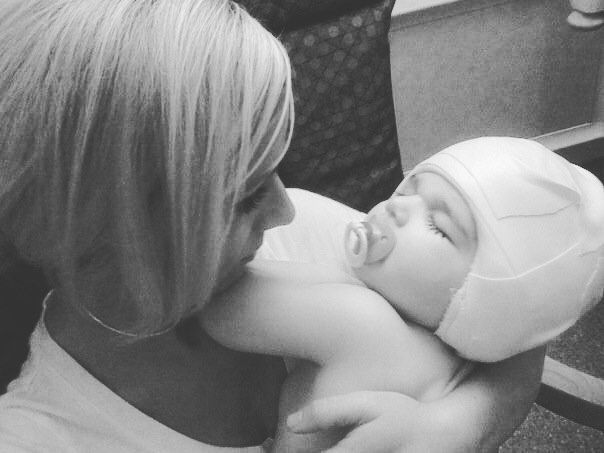 Hurricanes, tropical storms, tornadoes, shelters, supplies...all of these words are so familiar right now. Nearly every single person is asking "Why, God, why?"
While I've never endured a physical hurricane and have only done mission work in tornado-destroyed towns, I can't help but see a 30,000 ft view of what God does and is doing in these storms and the metaphoric "storms" of our lives.
When I was three years old, my mom battled terminal breast cancer. Given six months to live, she told her doctor, who happened to not believe in any God, that she would prefer not to die with the horrific effects of chemo and radiation AFFECTING my sister and I who were so young at 3 and 8 yrs old.
She was in the eye of the storm. She had two young children, a broken marriage and was seemingly dying of cancer. But her faith and resistance to the winds, the rain, the lightning that were pounding her life are so representative of a life of faith vs. a life lived in fear.
She looked that Oncologist in the eyes and said "if God's will is what He says it is...to HEAL, then I trust in that. I don't want my little girls to see pain and agony of medication. Whatever God's will in this is, I'm okay with. No chemo. No radiation."
This isn't a prescription for what you should do when faced with illness. That question and decision is between you and God and your family.
However, what this represents is that maybe just maybe, the most horrific storms in our lives are actually the times when we are most beautifully prepared for a life full of everything God has created us for. Maybe just maybe He's preparing us for a PURPOSE.
Two months later, my mom, Phyllis Ann (Fry) Borgan, beat it. She beat terminal, Stage IV Metastatic Breast Cancer. She...no God....did the impossible. Her Oncologist told her he'd never seen anything like it and his eyes were opened to the possibility of something he refused to believe in.
Storms, hurricanes, terminal illness, deafness, special needs children, academic struggles, losing a job, financial hardships, divorce, struggling in sports...all of these things are STORMS in our lives we face.
You see, these are the times God is PREPARING us. These are the times God is HONING and HEALING places in our hearts that are broken. Why? BECAUSE HE WANTS US TO USE IT. HE WANTS US TO PASS THAT HEALING, THAT LOVE, THAT DEVOTION onto others who need it...who need HIM.
My girlfriend, Amy, makes this amazing jewelry out of reclaimed materials. She hand stamped this onto mine:
MAKE LOVE YOUR GREATEST AIM. 1 Cor 14:1
WHY? Because it is the most simple, yet most important job we have.
This past month, Lexi has joined her dream team in softball. You all know her story. A bilateral cochlear implant child. A deaf child who can hear a whisper.
As a pitcher, she's put in more time than I can even count...we both have actually (sigh, grin.) Suddenly, she's faced a slump. I recall this one other time, but this time, she's been dominating on the mound. So this humble time for her and for me has been painful. It's been so tough to see this dominant athlete struggle.
We found out she's hurt. Her back has been pretty beat up and she's going to be fine with some adjustments for something totally unrelated to sports. However, what I've learned in this is something beyond what her little 9 year old mind can comprehend right now. God whispered to me... "how many times have you yelled out instructions to her? How many times have you given her tips and tools to correct it on the mound? But NOT ONCE have you yelled out "GOD'S GOT THIS!!!!!"
Yes, even in the smallest, seemingly average parts of our lives, God's GOT THIS. I laugh because even when I'm looking for a parking space, I ask God for help. I ask God for help keeping my focus on my work each day. I ask God for help getting ready on time.
Yet when my child is struggling, my immediate go to isn't "GOD'S GOT THIS"?!
So here's the point of it all. WINDS WILL BLOW. STORMS WILL RAGE. THE EVER OBVIOUS F5 TORNADOS WILL ABSOLUTELY COME.... my mom faced an F5 of the greatest magnitude.
YOUR NEXT BREATH SHOULD BE DEEP...your following words should be GOD'S GOT THIS. Lean in. Learn. Be shaped. Allow Him to make you better. Let God be God and you be HIS CHILD. Isn't that what we want for our own children? He feels that times 1,000,000 for us.
ps. My mom lived 27 more years before cancer ultimately took her. I lost my mom at the age of 29. It was a massive storm in my life. However, a life without her...a life that could have been lost when I was just 3 years old...y'all, I can't even imagine it. She was truly amazing. She gave, she loved, she dedicated her life to making sure as many people as possible would join her in Heaven. So I'm THANKFUL for that and for her example.