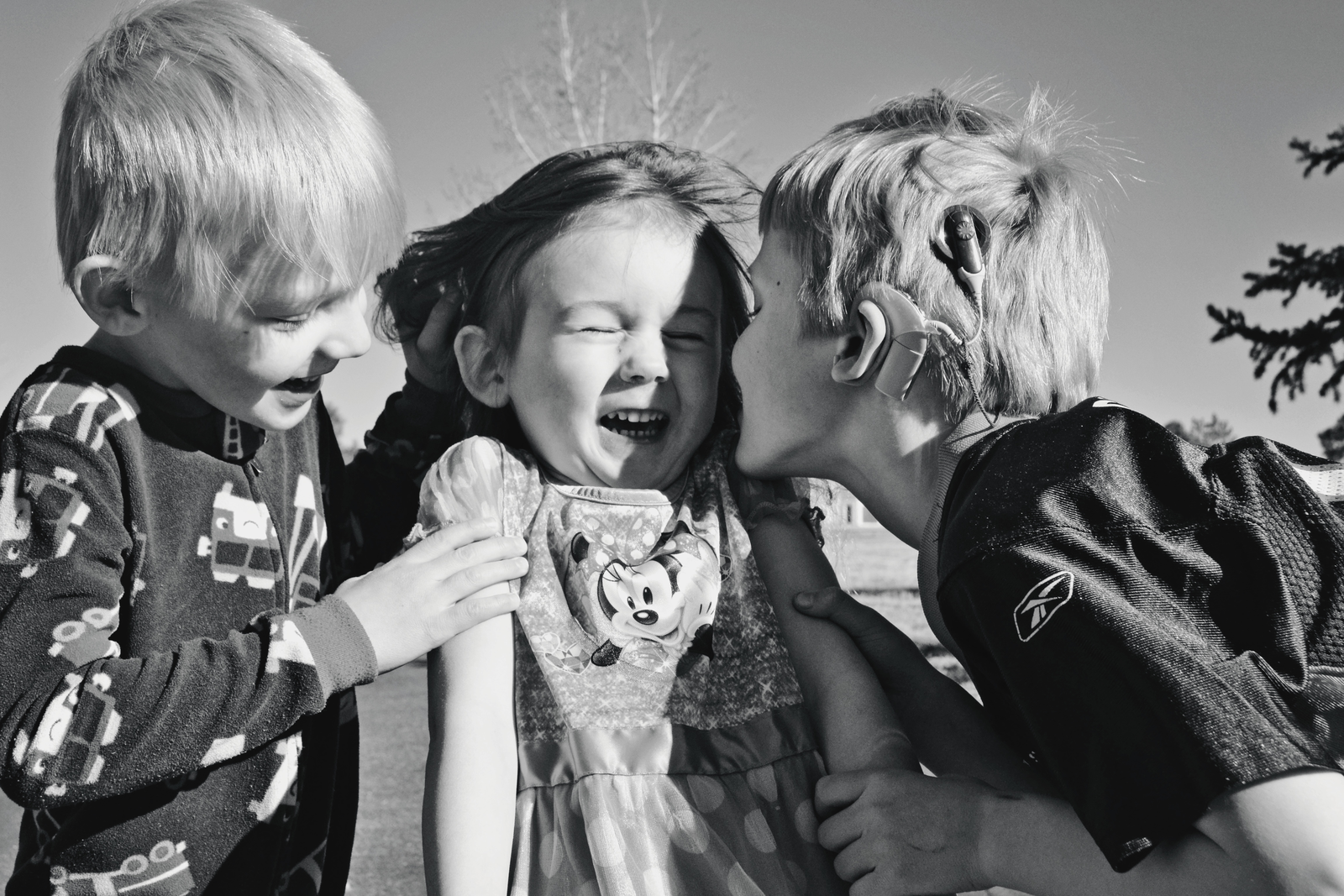 You know what I'm talking about. That call from your doctor with less than perfect news, or the fight with your spouse, or sibling rivalry drop down, drag out fights. These are normal, every day things that happen to everyone. Everyday people find out someone they love has died. Everyday people find out their car repairs are the upwards of $1500. Everyday, people find out they lost their job.
But there's something different when you add to the mix, raising special needs children. I have two special needs kids. My daughter Lexi, most of you know, is bilaterally deaf. She is a cochlear implant recipient. Lexi seems like every other kid, talks like every other kid, acts like every other kid…but what you don't see is the complete and total mental exhaustion from listening thru a device all day. You don't see the hours we spend dissecting language or pre-teaching vocabulary before it's taught in class. You don't see how we spend time on a grease board teaching her softball and basketball plays because she processes sound & information differently. You don't see the hours spent working with Learning Services to coordinate her needs. And you don't see the time she spends in tutoring because she missed out on two years of language.
I also have a son, Jacob, with a very high spectrum case of ADHD. While Jacob is my missionary, seriously known as one of the kindest children on the planet, you don't see pre and post medication time when he can barely keep still. You don't see how he wakes up when he hasn't had enough sleep or the emotional outbursts and how low he can feel. You don't see the time spent researching medication or no medication. The tutoring time for note taking and handwriting.
WHAT YOU DON'T SEE IS WHEN HIS ADHD MEETS MY DAUGHTER'S MENTAL FATIGUE….KAAAABOOOOM!
Seriously, today, I'm writing because I want parents to know that there are many, many of us who get it. It's one thing to deal with "life stuff". However, it's an entirely new ballgame to deal with life stuff when you have special needs children. This isn't just for the academics either…children with medical needs or diseases…parents, all of you…LISTEN UP.
Here's what I want to help everyone with today. HOW CAN WE KEEP JOY AND PEACE WHEN WE FEEL LIKE RUNNING FAR, FAR, FAR AWAY? How can we better COPE with the drama and the STRESS of 28 hour days to try and help our children, hopefully, possibly, someday….go away on their own and BE FINE?? How can we feel joy, be happy and take care of ourselves? WHY IS IT SO IMPORTANT? Because if we don't…all of these things we are focusing on each day to prepare them will completely crumble.
OUR #1 JOB IS TO CARE FOR OURSELVES. That's it. So here's my outcry and the time I'm going to dedicate to making sure we are all doing just that.
This week, it's been one of those for the books. School has started, schedules are starting to become more consistent, homework is trickling in, 18,000 after school activities are under way. Tutoring sessions, softball and golf practices, Lexi pitches 6 days a week…And while I begged for God to bring me the first day of school, I find myself reflecting "I totally bombed Monday (yesterday). I crashed. I burned. I went off on my kids and I should buy them a Disney vacay for my "crazy"."
The first thing I did this morning was apologize to my daughter. I told her I should never have reacted the way I did when she was her usually "mentally fatigued" unruly Lexi self. Lexi is my 2nd, headstrong, boundaries pusher. But we have an incredible relationship. She lets me slide….we laugh things out. So of course, she said "how about you just give me some chocolate cake in my lunchbox to make up for it?"
Jacob on the other hand, he was down and gloomy. He's my feeler. He feels pain. He feels pain for others, however, too. A true gift and also sometimes a curse. He wears his emotions on his sleeve. He was walking around as if the world had landed on his shoulders this morning. So he, my sweet disciple, he prayed for us all. A GIFT.
But as I reflected, God reminded me how many times my amazing, incredible mother freaked out. He reminded me that just as I give GRACE to my children…GOD GIVES GRACE TO HIS CHILDREN…even me.
I sat down this morning to read my Bible to get my heart and mind refocused on JOY AND PEACE and I felt a strong urge to remind myself, and others, the important things we can do to keep ourselves TOGETHER. To keep our hearts full of love and our minds at rest.
GET "YOU" OFF YOUR MIND:
I start my days off with the Bible most days. Some days I might grab a self help book, but at minimum, I try to read for 10-15 minutes. Sometimes I jump around…sometimes I follow it like a story, but I ALWAYS END IN THIS….PRAYING FOR EVERYONE AND ANYONE WHO HAS ASKED FOR PRAYERS BEFORE MY OWN NEEDS.
I usually write down every person's name as God lays them on my heart while I pray. I put it in the margin of my Bible, so when I see it one day, I'm reminded of the people who need my prayers. I'm reminded that as tough as days can be sometimes, MANY OTHERS HAVE IT A LOT TOUGHER!
SERVE, GIVE, SHARE.
Another way to get YOU off your own mind is to go serve. It doesn't take much to go serve somewhere. You can easily find opportunities at your local senior center, food bank, church or even our SONGS FOR SOUND HEAR THE MUSIC CLINIC :):). You don't have to go overseas to help someone. An elderly neighbor? Make them a meal. Pick up theirs sticks. Ask if they have any chores that need done around their house. IT'S PRETTY SIMPLE STUFF.
REST.
This is one of the toughest for me. BED TIMES. Good, consistent bed times. My mind goes a million miles an hour most of the time, so many nights I wake up. Keep a notebook by your bed if you're like me. Jot down whatever it is on your mind and you'll fall back asleep much faster! But get your 7-8 hours! I need to read this one tonight, btw!!!
R&R.
A girls' trip, a guy's bonding trip, go run at the park. Whatever you do, build in time for YOU. Your mind needs the break from the CRAZY. I know it's tough, but even once a month of playing cards with your friends; or a Bible study group without kids. MAKE TIME FOR YOU.
MARRIAGE QUALITY TIME.
My husband and I work a lot. We are often traveling in opposite directions, so I'm preaching to the choir here. Your marriage is under attack most of the time when you have special needs children. You find out their hospital bill or clinic bill is over a $1000 when you pay that in health insurance premiums each month. Add the bully at school you have to deal with, and a car repair…..that is STRESSFUL. You have to spend time with each other. You're not allowed to talk about the kids. You can't talk about tutoring or the car repair. Just talk.
PEACE AND JOY.
Finally, there is something you must remember. All of this is TEMPORARY! One day, they will likely be out of the home. There is likely going to be a day when you are headed to Heaven and they won't have you anymore! So don't take it for granted! Even the crappy days——remember them as the days YOU GOT STRONGER!
Let your kids fail. Let them learn to manage highs and lows. Let them experience LIFE without you sometimes. Let them miss you. Go away for a weekend. Let them understand the value of parents and don't allow them to rule your household.
All of these things will help you have a peaceful and JOYFUL life….even when everything around seems to be on fire. :)
~Jaime Vernon
Wife, Mom of Lexi (9), bilateral CI recipient; Jacob, (12) ADHD
Founder/Director, Songs for Sound, Softball Coach & Missionary