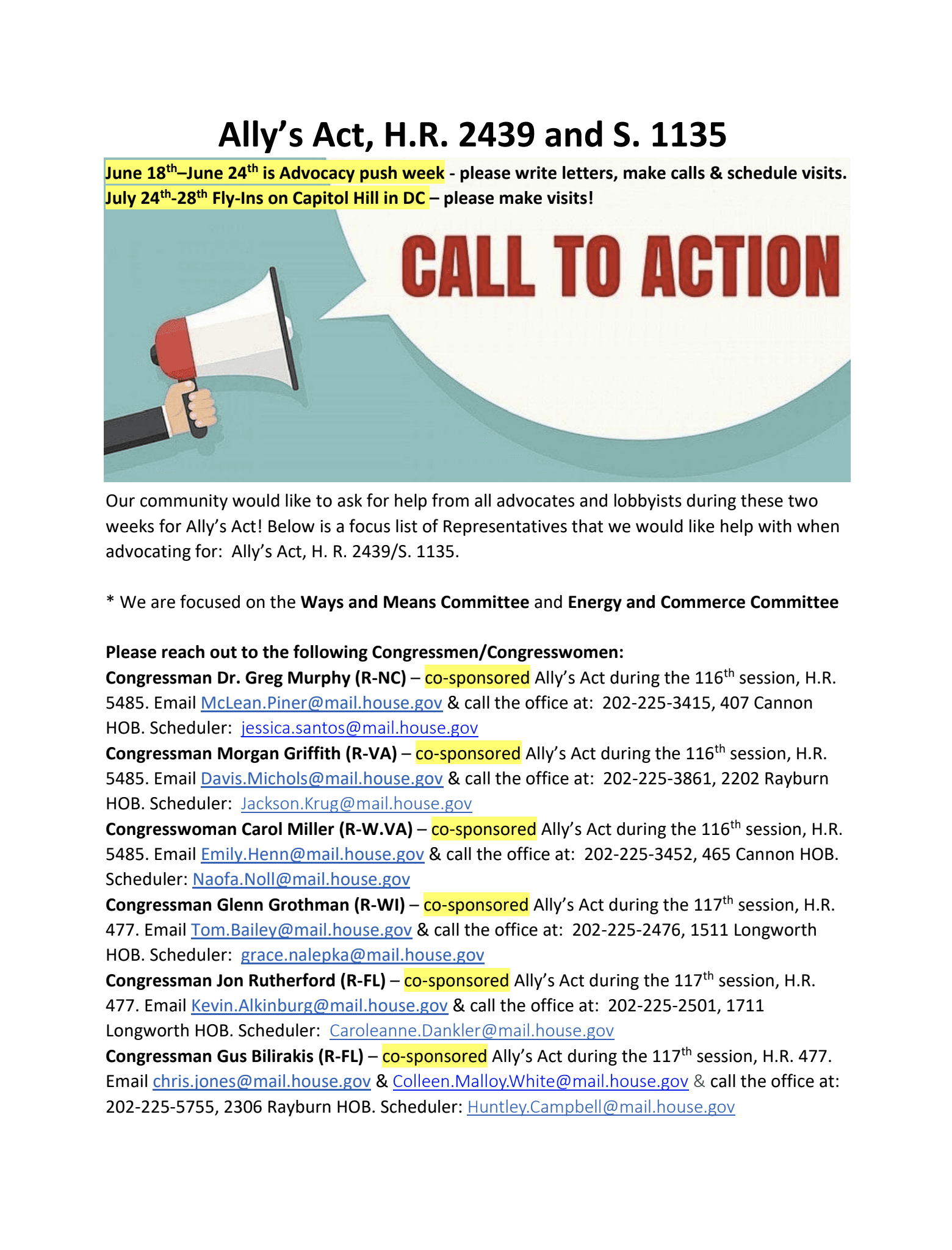 From Founder, Melissa Tumblin...
Calling All Advocates and Endorsers!
* Please help us advocate for Ally's Act, H.R. 2439/S. 1135 by making calls to specific Representatives on the attached document next week during June 20th-23rd, including your local Congressmen and Senators.

We have two important push weeks to focus on:
June 20th-24th (create traffic through all offices by writing letters and calling)
* Please use the Fly-In focus Rep list attached to make calls to specific Reps.
July 24th-28 Fly-Ins on Capitol Hill in DC (create more traffic through calls and scheduled meetings in person)
Ally's Act, H.R. 2439/S. 1135 is a Federal piece of legislation that would ensure private insurance coverage for bone anchored hearing systems and cochlear implant systems for children and adults from birth to age 64! * If Ally's Act becomes the law, this bill would help hundreds of thousands of children and adults have access to life changing treatment in every state!
Ally's Act info can be found on Ear Community's website at: https://earcommunity.org/about/allys-act-h-r-5485/

Here's a helpful video about Ally's Act can be found at:
https://www.youtube.com/watch?v=6DtupAueyFE

Attachments:
* 1-pager for Ally's Act, H.R. 2439/S. 1135
* List of endorsers
* What Ally's Act would cover
* Focus Fly-In Rep sheet to make calls to

Thank you so much for your help, your support and your advocacy! Thank you for helping my daughter, Ally, hear and all of the other children and adults just like her who can only benefit from these specific implantable hearing devices. Ally's Act helps individuals who were born with hearing loss and also those who lose their hearing tomorrow! Ally's Act would cost .02 cents per person/per month for the services to be covered under this bill by private insurers.