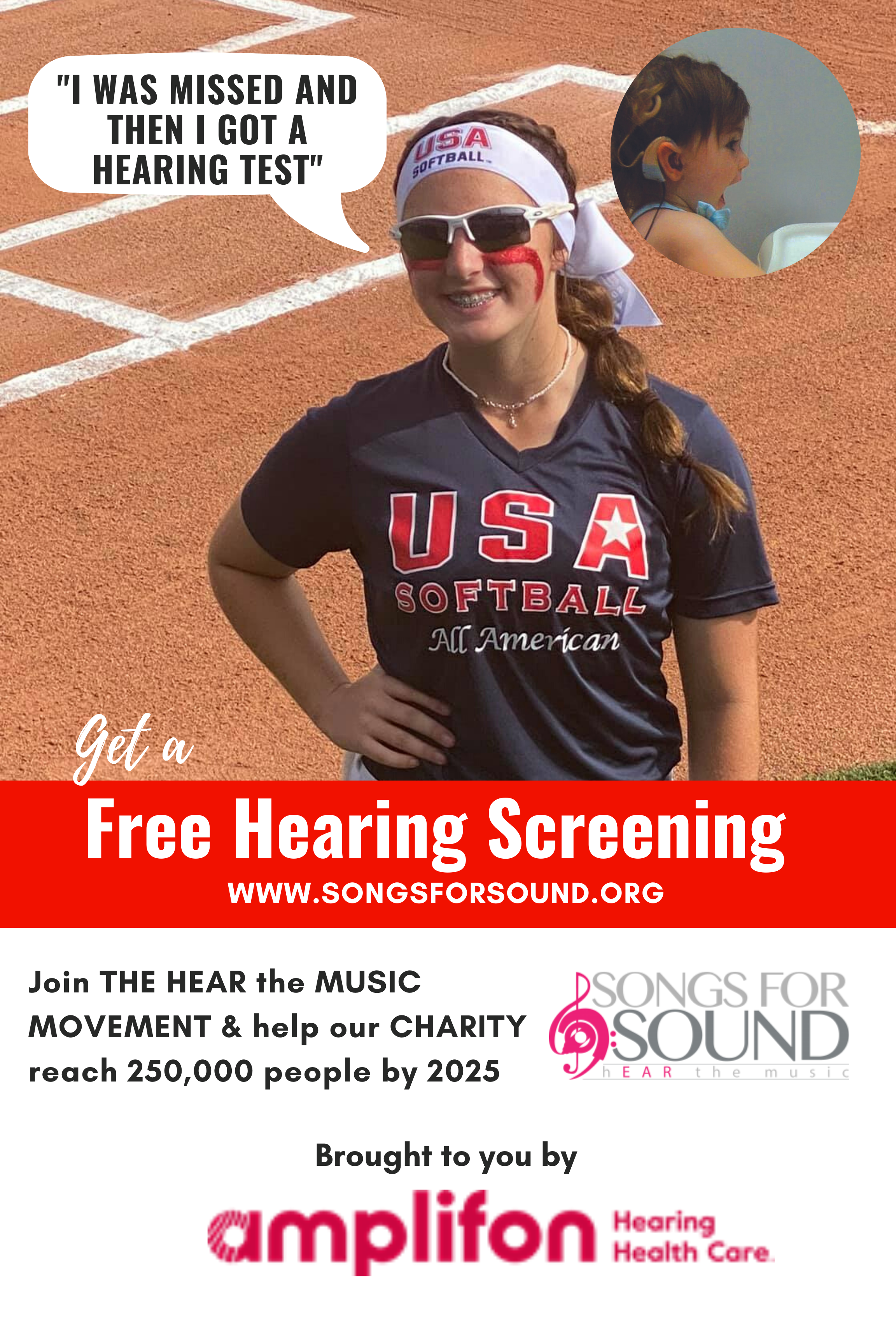 NASHVILLE, Tenn. (September 20, 2021) - After being off the road for nearly two years due to the COVID-19 pandemic, Songs for Sound is teaming up with Amplifon Hearing Health Care to offer communities across the U.S. an affordable and easy way to get everything they need from one provider through Songs for Sound Hear the Music Project. Amplifon Hearing Health Care ​makes it easy for consumers by connecting ​health and ancillary plans and their members ​with quality care, superior products, ​and an exceptional service experience. Just like Songs for Sound, Amplifon Hearing Health Care ​believes everyone ​deserves to hear the music. 
In September - October 2021, The Hear the Music Project will visit the following cities: 
Olathe, KS
Kansas City, MO
Nashville, TN
Dallas/Forth Worth, TX
Austin, TX
San Antonio, TX 
All Tour Dates found: https://songsforsound.com/news-events/event-calendar.html
Imagine singing to your baby and being told repeatedly "She's fine, she can hear," only to learn a year later that your child never heard any of your lullabies. For Jaime Vernon, that was a reality. Her daughter, Lexi, was born deaf. After a series of unnecessary healthcare industry setbacks, she received life-changing bilateral cochlear implant surgery at 18-months-old.  It was when she saw how cochlear implants could open up a new world of hearing and speech, Jaime decided to found Songs for Sound to help give other families, and people of all ages, access to hearing health options. Songs for Sound is a 501c3 offering multiple programs designed to close the gaps in hearing healthcare. The Hear the Music Project is Songs for Sound's outreach program offering free hearing tests all across America. 
"I couldn't believe how many times Lexi was missed. From no newborn hearing screening given to her, and not passing a 10-week screening that was dismissed as Lexi being fussy," said Jaime Vernon, Founder of Songs for Sound. "We went on with life as normal. All the time, Lexi never heard my lullabies. She never heard me try to comfort her. When we finally found out she was in fact deaf at the age of 13 months, it crushed me to think 'she never heard me.'"
Songs for Sound has hosted over 850 events across the U.S. serving over 27,000 Americans. The organization educates, counsels and builds trusting relationships which is their difference. They teach Americans how to navigate hearing healthcare and empower them to take action. Songs for Sound creates a hearing health profile for each individual and are now building their own care team. The care team will continue to counsel individuals after their hearing needs are met to continue a lifelong partnership in hearing health. Songs for Sound's difference is love and kindness.
Jaime's daughter is also a constant source of inspiration to keep paying it forward. Lexi is 13-years-old and an exceptional student athlete. Jaime calls it "The goal. She's reaching her greatest potential because she can hear." 
Lexi was recently ranked as the #7 pitcher in the United States for the graduating class of 2026. She is also a USA Softball All-American and plays for a nationally ranked program, the Birmingham Thunderbolts Premier Kaplan 2024 team. She is an honor roll student at Brentwood Academy and is seemingly very much like her peers. 
 
The Hear the Music Project serving all Americans administers free hearing screenings, assists with audiology referrals through their unmatched Care Team, and teaches ways to prevent noise induced hearing loss.  
About Songs for Sound
Songs for Sound is a 501c3 charity which uses a passionate and compelling story about hearing loss & music to create awareness, increase access and encourage action around hearing loss. SFS is an outreach charity and aims to serve 250,000 people by 2025 with free hearing tests and care team support as we move them into hearing loss solutions & living their best lives.