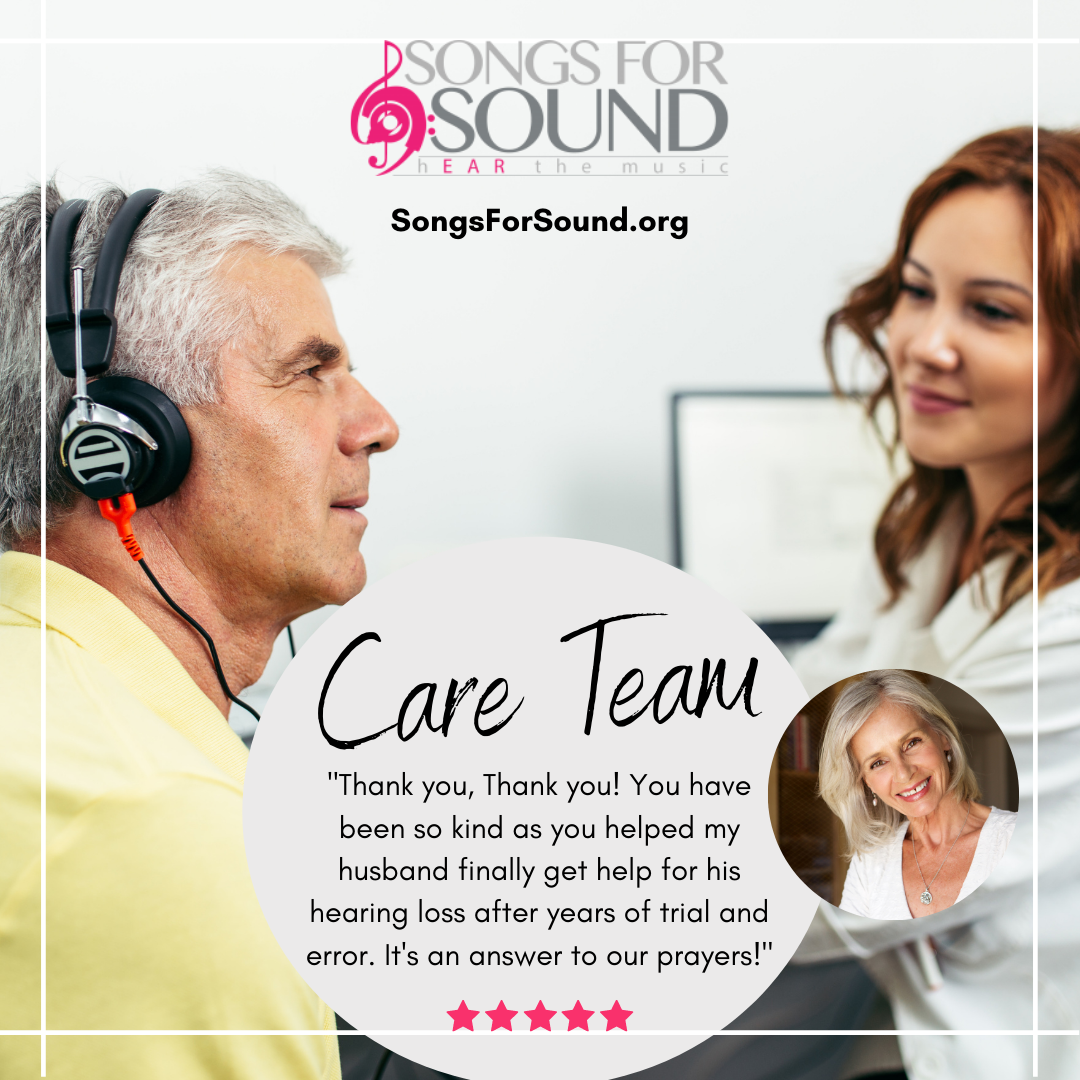 How can I get personalized help, care and guidance to help with my hearing loss?
The Songs for Sound Care Team is the answer! Songs for Sound is a 501c3 charity and our mission is to help you...
Hear The Music!
In order to have the best healthcare, often you need guidance, support and a friend. When you hear words that you may have a health condition, immediately thoughts and feelings of fear and anxiety can take over. Often, people go into fight or flight. Soon after the initial shock of a health diagnosis, people enter into a phase of discovery and research. Often, that process involves the internet and possibly a second opinion with a physician. 
Regardless, most people are still overwhelmed and feel helpless, not knowing where to get help and recover from the diagnosis. 
Speaking from experience, many people such as myself, find hearing loss to be very confusing. They don't know the difference between Audiologists and hearing technicians, confused about where to find help, overwhelmed by the number of devices available, unaware of the effects hearing loss has on one's life and they think hearing aids or cochlear implants are simply unaffordable. 
WHAT IF YOU COULD ACCESS HELP FROM A GROUP OF PEOPLE COMPLETELY FOCUSED ON YOU...not profit margins or sales goals, but YOU?
Hearing Health & Hearing Loss
Hearing loss is defined as the loss, either some, much or all, of the ability to hear. Hearing is one of our most vital senses and it connects us to people, helps us maintain a healthy brain, keeps us emotionally healthy and allows us to work, read, communicate and more! 
However, most don't know how to access the best help with the right professional. 
SONGS FOR SOUND
What if everyone had access to a hearing test? What if over 500 million people worldwide living with a disabling hearing loss could receive the life-changing ability to hear and communicate with the world around them? What if an organization could not only bring hearing and healing all around the world, but it could use music as the catalyst to do it?
We all have a song to sing. Whether we're healing through life's hurts or dancing to our wedding song, music is often present in the biggest moments of our lives. However, one can only experience sounds such as music, laughter, conversation and more … if they can HEAR. 
Songs for Sound is the answer. We deliver everyone awareness and information in order to empower people/consumers to make healthy choices for themselves.
For the past ten years, we've toured the country hosting awareness events and also deploying OUTREACH to Americans with our mobile hearing health experience, The Hear the Music Project. This is a 32' hearing health experience with state of the art testing (by Otokiosk) as well as information and resources to move into next steps to hear. 
OUR MISSION:
Songs for Sound uses a passionate and compelling story about hearing loss & music to create awareness, increase access and encourage action around hearing loss. SFS aims to serve 250,000 people by 2025 with free hearing tests and care team support as we move them into hearing loss solutions & living their best lives. 
CARE TEAM
Songs for Sound is incredible at building relationships. We are and will continue to be focused on the individual, their story, their needs and affordability. The feedback obtained over the past ten years continues to point to lack of trust in the hearing health industry. We help to build trust by being a conduit between the story and the hearing care industry/professionals. 
This team consists of a group of caring individuals, many who have a hearing loss story; people who have walked this journey and are personally knowledgeable. Their sole purpose is to "connect" with our "champions" (those we serve) and help guide and walk them through the process to hear and live their best life again.
HOW DO I GET HELP?
So you want a Care Team Hearing Partner? It's so simple! Start by filling out a request form and one of our Care Team members will contact you and walk you through the life of your journey to hear!