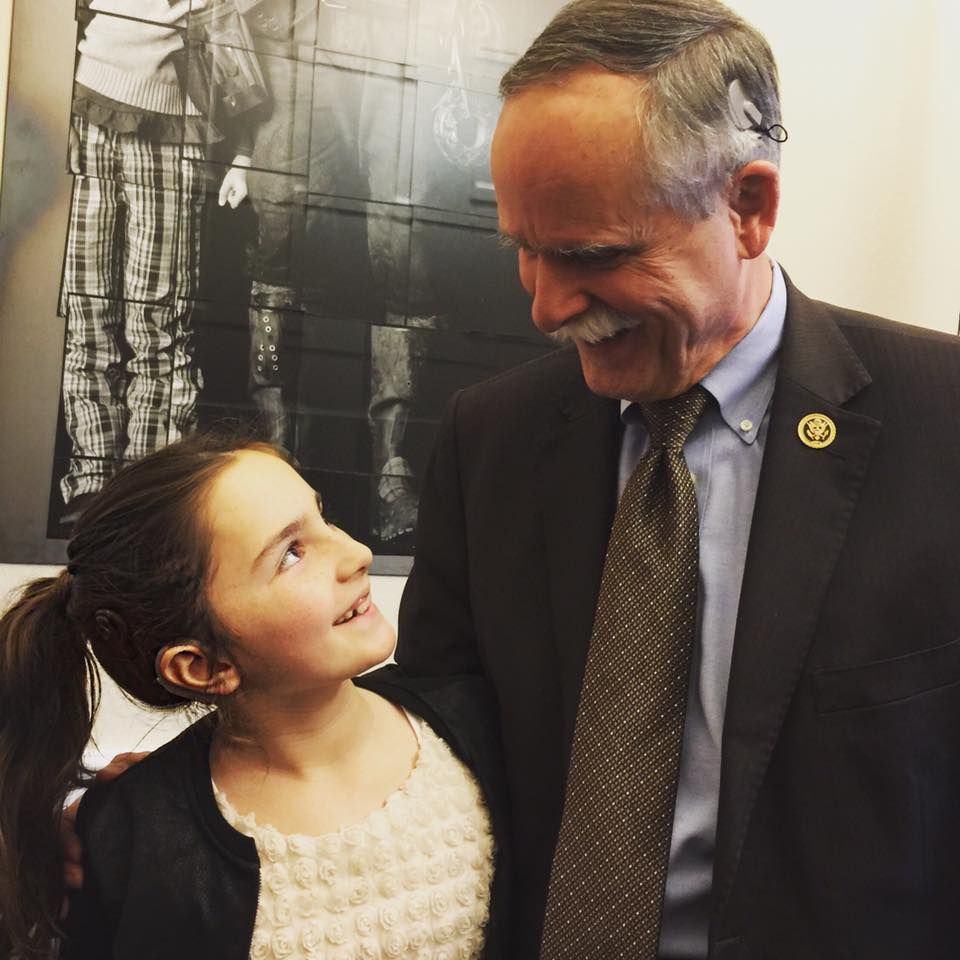 (Photo left: Lexi Vernon and Congressman David McKinley/WVa)
We all know hearing health is important, but as we get older and set into a routine, we seem to bypass the need to care for our hearing, ears and yes our brain health. Through the years, your brain's cognitive reserve—its ability to withstand neurological damage—diminishes. Like any other muscle, a brain needs to be exercised, stretched and challenged to stay strong and avoid atrophy. This can only happen if you have healthy hearing and ears. 
So how can you live a hearing-healthy lifestyle? By taking steps to preserve your hearing or even treat hearing loss. Listen, we seem to be okay with our aging body. We know to get our mammograms. We visit the eye doctor, dentist and family doctor once a year like clockwork. Yet our ears seemingly go into the abyss of "I'll wait until it's really bad." Hearing is our connection to others. It allows us to do our jobs. Hearing FEEDS our brain. Our charity was built around the beauty of hearing MUSIC and how lyrics and melodies can impact a life. Coincidentally, when we lose our ability to hear, these things go away, including the gift of hearing music to heal from life's heartbreaks.
Our charity is simple. We are your connector to hearing healthcare that exists. We offer free hearing health screening events nationwide, we offer online solutions to connect you to local, reputable Audiologists, we offer online support including step-by-step checklists. We will even personally walk you through every step if that's what you need.
Check out these tips you can take to start your hearing health plan now:
MAKE AN ANNUAL APPOINTMENT. There are many reputable Audiologists in your area. An Audiologist is a doctor who completed four years of undergraduate school and then completed their Master's degree in Audiology. They are highly qualified. Like all health professions however, you have to find the one who is right for YOU. Bedside manner, empathy and compassion is very important. Start with our clinic finder HERE. Then, do a little homework. Search for reviews on the Audiologist to find reviews that describe someone who is right for you. 
 
USE OUR CHECKLIST. Does your insurance cover your initial appointment? Do you need a referral from your primary doctor? Our checklists are designed to help you navigate every step to hear. Follow this LINK for checklists and other resources. 
 
TAKE A SPOUSE, FAMILY MEMBER OR FRIEND. It's easy to get caught up in the moment or feel overwhelmed. You may not even think you have hearing loss, so finding out your hearing is less than normal can be overwhelming. Your not alone. So many people have gone before you and taken the steps you are taking. However, we recommend taking someone with you. This person can be your back up so you don't forget anything. They can be the "bad cop" if you need someone to ask the difficult questions and they can TAKE NOTES. 
 
DEVICES. Hearing technology can change your life. For mild-to-moderate levels of hearing loss, you need to discuss hearing aids. Hearing aids amplify existing hearing/sound. Reputable companies include Phonak, ReSound, Oticon, Widex and Siemens (Signia). These companies specialize in "in-office" solutions sold by an Audiologist.  They also have products that are good for severe hearing loss. There are OTC products from companies such as Eargo for mild-to-moderate hearing loss only. This is a great way to begin your hearing journey and Eargo's products are virtually invisible.If your hearing loss is severe-to-profound, you need to insist on a referral to a cochlear implant team. This team includes an Audiologist, Otologist/Neurotologist who will make sure there aren't other underlying conditions causing your hearing loss. They will also discuss devices such as a hybrid cochlear implant or a cochlear implant by Cochlear. These devices are implanted into your cochlea and RESTORE your hearing. The device is done in an outpatient surgery and can give you back your hearing. 
TAKING THE TEST. Request the following tests: pure-tone audiometry, speech audiometry, speech-in-noise & words-in-noise tests, tympanometry & tests for hidden hearing loss. If you have hearing aids or cochlear implants, make sure you ask for an aided and unaided test to see the benefit you are receiving from your device(s).
RESULTS. Ask for the Audiologist to review key terms before going over your results. This will allow you to follow along and retain the information better. 
PROTECT YOUR HEARING. Continue wearing hearing protection when decibels are louder than a spoken voice. Always wear HP during lawncare, concerts, around heavy machinery or motorcycles or even at church when music is loud.
When it comes to hearing health, your mental matter is important. Keep your brain sharp and focused by taking care of your ears, including wearing your devices "all waking hours". Hearing and listening will allow you to continue living a positive, healthy lifestyle and stay connected to others.