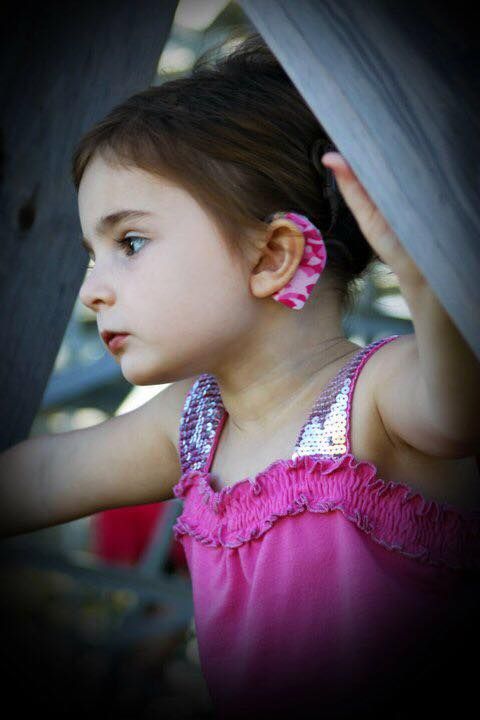 Prelude
As I woke up that morning, certain of a day full of optimism, of healing and of simplistic answers to my child's inability to hear, I can remember an apprehensive feeling to just let God do His work. I recall telling myself it would be nothing. Fluid, a minor tube surgery or possibly an in-office procedure.
Sure, I knew of a person or two who had hearing aids and hearing loss, but I was certain no child of mine would have such a disability has being deaf. I was certain it was 'fluid'.
Fast-forward to later that afternoon. "Your child is deaf." If you read this blog, you know the deal. Lexi, now 12, has cochlear implants, rocks life, has incredible speech & literacy outcomes, is excellent in school and also a great athlete. So as I read these verses this morning "My grace is sufficient for you, for my power is made perfect in weakness" (2 Cor 12:9)... I'll admit, I giggle.
I remember that day like it was yesterday...A deaf woman sat behind, um, ME.
It is often I see God's glory in Lexi's deafness and story. He gave me a vision to start a charity, Songs for Sound, and now ten years later, SFS has hosted awareness/fundraising events nationwide, launched a mobile hearing health tour to serve the needs of those who may be suffering from hearing loss, we have missions in Jamaica that are just getting started, we serve Veterans through our Hearoes Program and host an annual Hear the Music Kids Camp. These large, grandiose plans and missions are certainly incredible. To look back and see what God has done with Lexi's story...with my own 'broken life' story...WOW. It is truly amazing.
But it would be very remiss of me if I didn't express this simple sentiment: It is not the big, huge, large scale miracles that keep my faith in focus or redirect my broken spirit; quite the contrary. It's the "little things".
You see, the big mobile unit providing state of the art free hearing tests, serving Veterans at the American Legion National Convention; all the thousands who we've served for free; all the fundraisers across the U.S. for hearing programs ---- it nearly killed me. The stress of putting those things, and this charity, together was beyond my comprehension. Did I learn more about myself? Absolutely. Did I live those words in 2 Cor "for my power is made perfect in weakness"? You betcha.
But, to me, it's the small miracles and milestones which feel more like a whisper from God because they come when you least expect them; and they often happen during your quiet times of REST. To me, these are God's reminders to keep His wind beneath us in order to keep the large miracles in motion.
I remember a Sunday at church about five years ago. They showed a short video on Lexi's story and "Contentment". The story rolled, the excellent sermon passed and as I got up to leave, a woman was sitting behind me with her family. She had a handheld device attached to ear phones she wore. She wore this to HEAR.
The family recognized me from the video. Out of 1200+ seats in our church, a woman who is deaf, does not have cochlear implants, hearing aids weren't an option for her, sat....behind....me.
Their "wow, I can't believe we sat behind you of all places" turned into surges of God's love within my weary soul. So, I stood there and listened. I didn't push or nudge or expect her to run to Dr. Haynes' office at Vanderbilt to get a cochlear implant, but I listened. 

This sweet woman attended another church with a deaf ministry and referenced, very kindly, "God moved me away from there. It was time."
She had great speech as she lost her hearing to Meneire's Disease much later in life. She was more interested in using her sign language she had learned because she used her hearing loss as a catalyst to help deaf children. All she wanted to do was to help those children and she realized, as time went on, kids like Lexi were deaf, but learning to HEAR through cochlear implants and use SPOKEN LANGUAGE.
Of course, I encouraged her to get involved in our outreach and mission work as we grow, that so many kids are still missed...and I simply gave her my card. God nudged me to not to so much focus on the cochlear implant that day, rather to listen. To allow her to feel God's warmth that there were folks like me out there fighting for her hearing health; no matter what she ultimately chooses or doesn't choose. She felt God's love through me.
And for that -- God's grace is certainly sufficient for me. Through all the difficult, early mornings and late nights; for all the countless hours of Lexi's speech & hearing therapy; for teaching a child who was two years behind in language to TALK; for losing a few relationships in this mission work, but gaining more than I can count. For dealing with a few dishonest vendors, but having the pleasure of working with many incredible ones.... the times I felt as if I was going to collapse from all the work that was solely on my shoulders, to now looking around me and beginning to see a team and the light; for the millions of people out there who are sitting in silence and they simply need a champion...yes, God's grace is sufficient for me and there is no greater power than HIS POWER which has been made, overcome, been ever-so-powerful in my weakness!