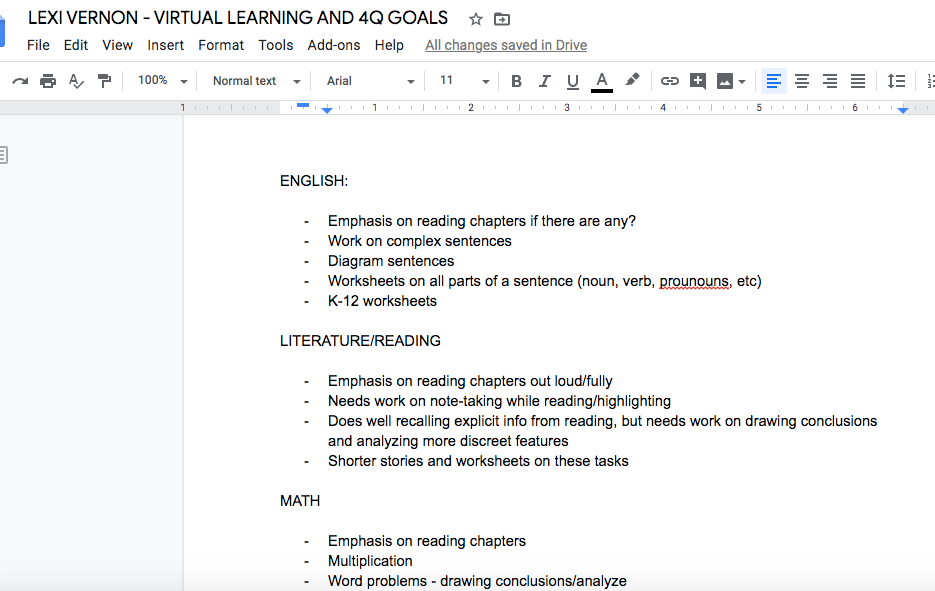 My office is currently in my home. However, my children are rarely there during the school year. In the Summer months, they come and go or visit relatives/friends. But I have a system. Suddenly, like many of you, I have to create a NEW system on top of running a company during a time of crisis. 
My children are DIFFERENT. They are oil and water most days. They love each other, but learning is very different for each of them. Jacob has ADHD and is more independent when doing homework. Lexi is deaf/cochlear implants and learns more independently while listening to online instruction. What does this indicate for me? IF I DON'T COME UP WITH A SYSTEM, THEY WILL CONSTANTLY BE TAPPING ON MY OFFICE DOOR! ARGH!!
On top of having two children at home now, I also have crisis planning for my non-profit organization. Spring is our biggest fundraising season. We enter into and close new sponsorship deals, we host our annual gala and we launch all new and existing programs. Everything came to a halt recently, so I have to pretend as if no dollars are coming in and try to keep this mission and company afloat. STRESS? Likely. Can I do it? ABSOLUTELY. But it all HAS to have a STRATEGIC PLAN.
Over the coming weeks, I thought I'd share some tips for how I'll tackle the kids, planning their workload/schedule and also MAXIMIZING this time they have to spend on their studies and academic development WITHOUT the distractions of "social". I'll also share some tips for working from home, videoconferencing and more! 
TODAY, let's use LEXI as our example of ACADEMIC PLANNING: 
TIPS --- 
1. REVIEW HER ACADEMIC ASSESSMENT from her SPEECH PATHOLOGIST AT TCU
Lexi was tested at TCU in August 2019; something we do annually to determine strengths, weaknesses and where to spend time prepping her for school and in school. Dr. Lund reviews her academic performance through a series of tests and we come up with a plan for the coming year. We know not all of these are focused upon during the school year, so what a great time to do it at home?! Lexi is a mega-athlete and her schedule is quite crazy, so this is a perfect time to improve on some things that continue to hold her back, academically. 
EXAMPLE FROM HER ACADEMIC ASSESSMENT: 
7. Spend time engaged in explicit instruction for skills like writing and vocabulary instruction (making deep connections between words). This kind of instruction is likely to transfer to reading skills as well and provides natural opportunities to discuss the rules and structure of language.
2. VERACROSS/ONLINE RECORDS of Academic Performance from her SCHOOL
I glanced through a list of all of Lexi's grades for the year. For each class, I noted a short list of goals based on areas she was weaker through the school year. For example, 
I reviewed her grades and teacher's comments on her report cards..... THEN, I broke it all down by SUBJECT. Here's a sample of one list of goals/tasks:
LITERATURE/READING
- Emphasis on reading chapters out loud/fully
- Needs work on note-taking while reading/highlighting
- Does well recalling explicit info from reading, but needs work on drawing conclusions and analyzing more discreet features
- Shorter stories and worksheets on these tasks
3. PRINT WORKSHEETS/CREATE A SCHEDULE FOR THE DAY OR WEEK 
I prefer to do this daily. This allows me to see if we need additional work on the work from the previous day. Then, once we've conquered it, we can move on. 
K-12 or K5 (goes through 6th) worksheets are GREAT; simple & printable! 
Clearly, she will have hours of lessons from her teachers at Brentwood Academy, so my kids will get that work done FIRST with fresh eyes and a fresh mind. 
OUR SAMPLE SCHEDULE FOR TODAY, MONDAY. (Jacob returns tonight from out of town, so this is Lexi only)...
School doesn't start until WEDNESDAY officially, but we need to get back on a schedule after Spring Break. 
DAY ONE/NO SCHOOL YET, BUT GETTING MINDS RESET:
1. Make bed/get dressed
2. Go for a run
3. Breakfast
4. Login and verify online access to online learning 
5. READ - ANYTHING. Just read. 
6. (1) worksheet or chapter review from each subject. 
7. LUNCH
8. CHORES - (3) chores for the day
9. Athletic training (after my work day is complete)
10. Play outside! 
I'll begin sharing more as we get closer to BACK TO CLASSES this Wednesday! This should help getting anyone started (even if no hearing loss/learning challenges). 
HAPPY MONDAY! PRAYERS FOR EVERYONE TO STAY IN AND STAY CALM!