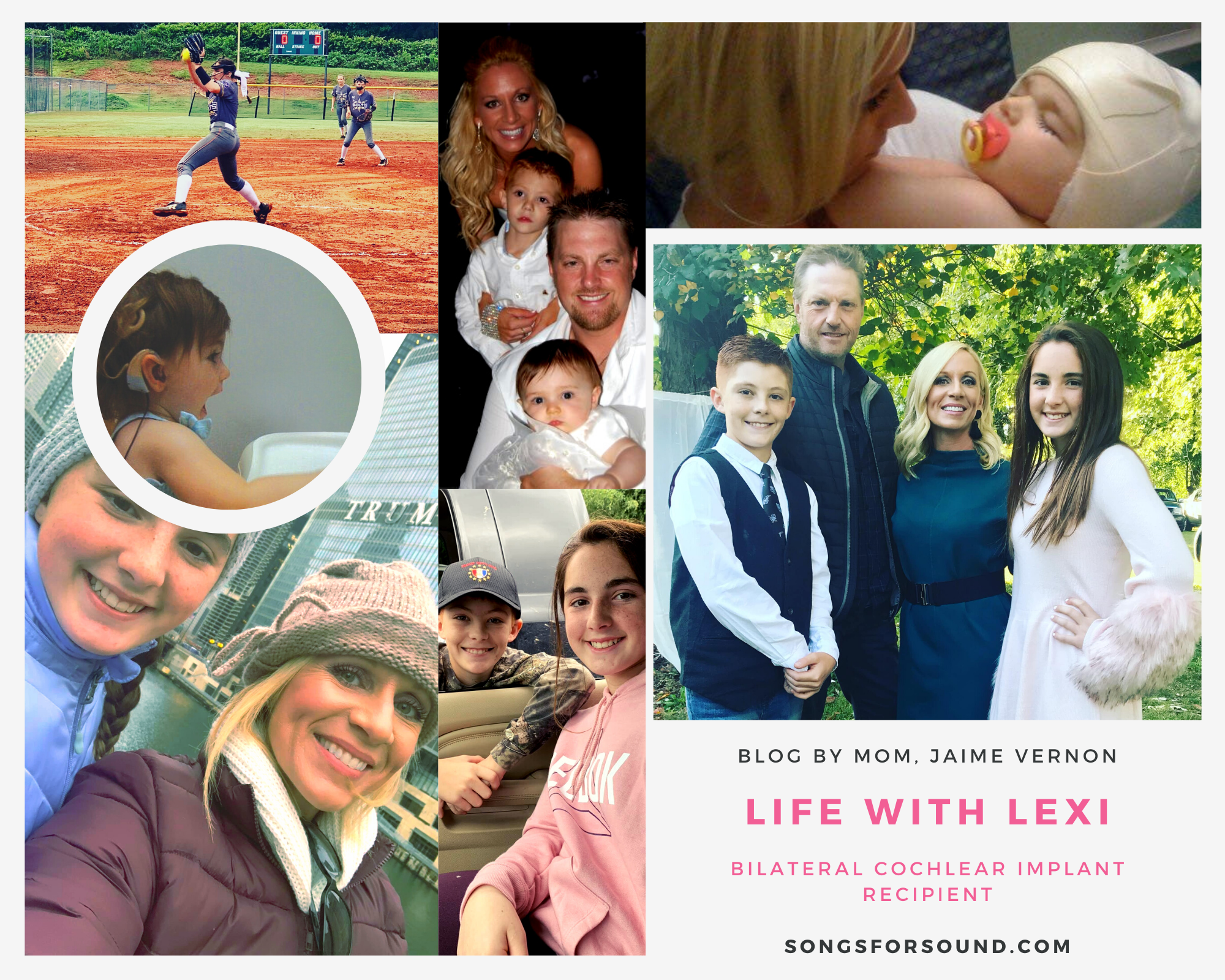 THE CALLING
I still remember the struggle and the hurt. Sitting in my living room, sobbing and asking God "WHYYYYY?" In such a short time, why, in my early 30's, had I already lost my mom (breast cancer) and now my sweet baby girl was born deaf. "What did I do that I was enduring so many trials at such a young age? Why did this happen to Lexi?"
I would go through this same process each and every morning... FOR SIX MONTHS. Sitting in my living room, my Bible open wide, tears rolling down my face. Every morning, my prayer--a little different, but it was ultimately the same. Some mornings, it was "why am I raising a deaf child WITHOUT my mom." Others it was "why does my child have to endure a life of struggles because of me and WITHOUT her amazing grandmother?" Then others it would be "what did I do that she deserves this?"
Back then, I couldn't see the present day and age. I couldn't see the 42 year old me who has built a nationally-recognized charity that is helping thousands of Americans find their way to hearing loss help. I couldn't see the unbelievable 11 (almost 12) year old young woman who is dominating as a fastpitch travel softball pitcher playing at the highest level. I couldn't see how amazing her speech and hearing is. I couldn't see that, while she may have to work extremely hard at her academics, she is learning critical lessons about being a responsible adult through the work ethic she's learning at her private school. I COULDN'T SEE HOW LEXI'S STORY IS CHANGING LIVES ALL OVER THE WORLD. I couldn't see how she touches lives every day with her bright spirit, love of life and infectious laughter. I couldn't see her HEAR the tiniest sounds and find JOY in all of them. 
So that morning, sitting in bewilderment after begging God for SIX MONTHS for answers, when He lead me to John 9....I had just asked God "Why?????? Why was she born deaf? What did I do?"
THIS WAS A MOMENT THAT CHANGED THE COURSE OF MY LIFE....(JOHN 9)
And there it was in red letters...(Jesus talking to his disciples as they encountered a blind man..."
Disciples, "What did this man do or what did his parents do that he was born blind?"
Jesus, "Neither him nor his parents did anything! This man was born blind so that the work of God can be shown in his life!" Then, Jesus spat on his hands, made some mud, rubbed it on the man's eyes and said "GO WASH. YOU ARE HEALED AND YOUR SINS ARE FORGIVEN!"
And here's the part that I love the most...Jesus said, "GO TELL!" 
I, we, you were not punished. WE WERE CALLED. This calling requires us to stay close to God. It requires us to stay in line with His word. It requires us to accept the GRACE that He gives us to each and every new morning. This calling requires grit, sacrifice and also a little TLC from time to time. We must be tough, nurturing, loving, kind and also often act like a bulldog. WE ARE AN ANOMALY! 
We were CALLED, not punished. I'm repeating that... CALLED, not punished. Our CHILDREN WERE CALLED, not punished. OUR CHILDREN ARE TESTIMONIES AND WE ARE IN CHARGE OF MOLDING THEM AND PREPARING THEIR HEARTS FOR A LIFETIME OF GIVING THAT TESTIMONY. 
PREPARING OURSELVES
I've blogged about this "John 9" moment in my spiritual walk before. I have shared this story when I give talks and presentations. But that day has lead me to a life of studying during every problematic, and every triumphant, time in my life. And today, guess what? I STILL HAVE PROBLEMS AND BIG MOUNTAINS TO CLIMB. I am still seeking answers and going to God for wisdom. 
Since that day, I've realized that God will tell me what I need to hear when I need to hear it. It's never on my timeline. It's always on a much better timeline. 
For the past six months, I've been in 2 Samuel and also Romans. The parallels between David's story going from a shepherd to a KING are so relatable to me. I went from a basic woman with a lot of issues, hurt, pain and doubt, to leading a large organization helping thousands, leading a team and telling my story for others to find healing. So when I read about how David cries out to God while struggling to lead, I find peace and comfort knowing that God was with David and He is with me. 
When I read Paul write about true Christianity, grace and how God's love is unconditional, I am changing my heart one scripture at a time. For most of my life, and even today, I have a very difficult time understanding a God who loves unconditionally and forgives freely. So studying those words...not reading, but STUDYING...is critical for me to give that same grace to others. 
Preparing myself each day to lead Lexi's story that is being written, preparing myself each day to lead my son's story that is being written as a sibling to a deaf sister, preparing myself each day to help my employees feel God's love while they work----it is a CALLING within the calling. 
But it is critical. 
1. Every morning starts with God's word. One scripture or an hour dedicated to studies -- regardless of the time you have -- this is so important. 
2. Prayer and worship. Praying and thanking God first for His blessings, then presenting all requests to God. Then celebrating God through song and praise. Thanking Him for what was and what is to come. This allows my heart to be prepared for anything and EXPECT His blessings. 
3. Having Faith, speaking it into my day...living it. Having faith that whatever God presents or PERMITS is for my own good. Having faith and knowing it may not happen on my timeline, but it will be bigger and better than I could ever dream of. 
4. GOING TO GOD WITH EVERY QUESTION, CONCERN and not acting hastily. This is something I'm still learning. I get a little better with time. Things will happen, but asking God for answers and waiting for them is a critical skill as the leader of an organization and of children. 
DAVID THE KING
I cannot understand leadership without leaning on some David. David was a shepherd. He tended sheep and was in the fields when God called him to defeat a huge Philistine giant. The moment when David put all his faith into God to defeat that giant, was the day he accepted God's calling as King. No, he wasn't anointed for some time, but that was the day God knew His servant was 10000% faithful. 
David is the ultimate leader. He was flawed. He was the least likely. He was kind of a hot mess at times. However, his HEART WAS PURE. 
In order to understand why God would choose me, what He wants from me, how He wants me to lead, I have to know and study David. I have to try and PURIFY MY HEART, accept my weaknesses, and seek God and His understanding in ALL OF IT. 
I'm going to leave it there for today. 
Trust that YOU were CALLED. Trust that your CHILD WAS CALLED. You are being handed the greatest responsibilities and the very things you think will keep you from your calling will be the things GOD RAISES UP FOR THE WORLD TO SEE. Those are the things HE WILL USE. 
Happy Thanksgiving. I'm so thankful for my life, my family and MY GOD. 
LOVE,
Jaime Vernon
Director/Founder, Songs for Sound