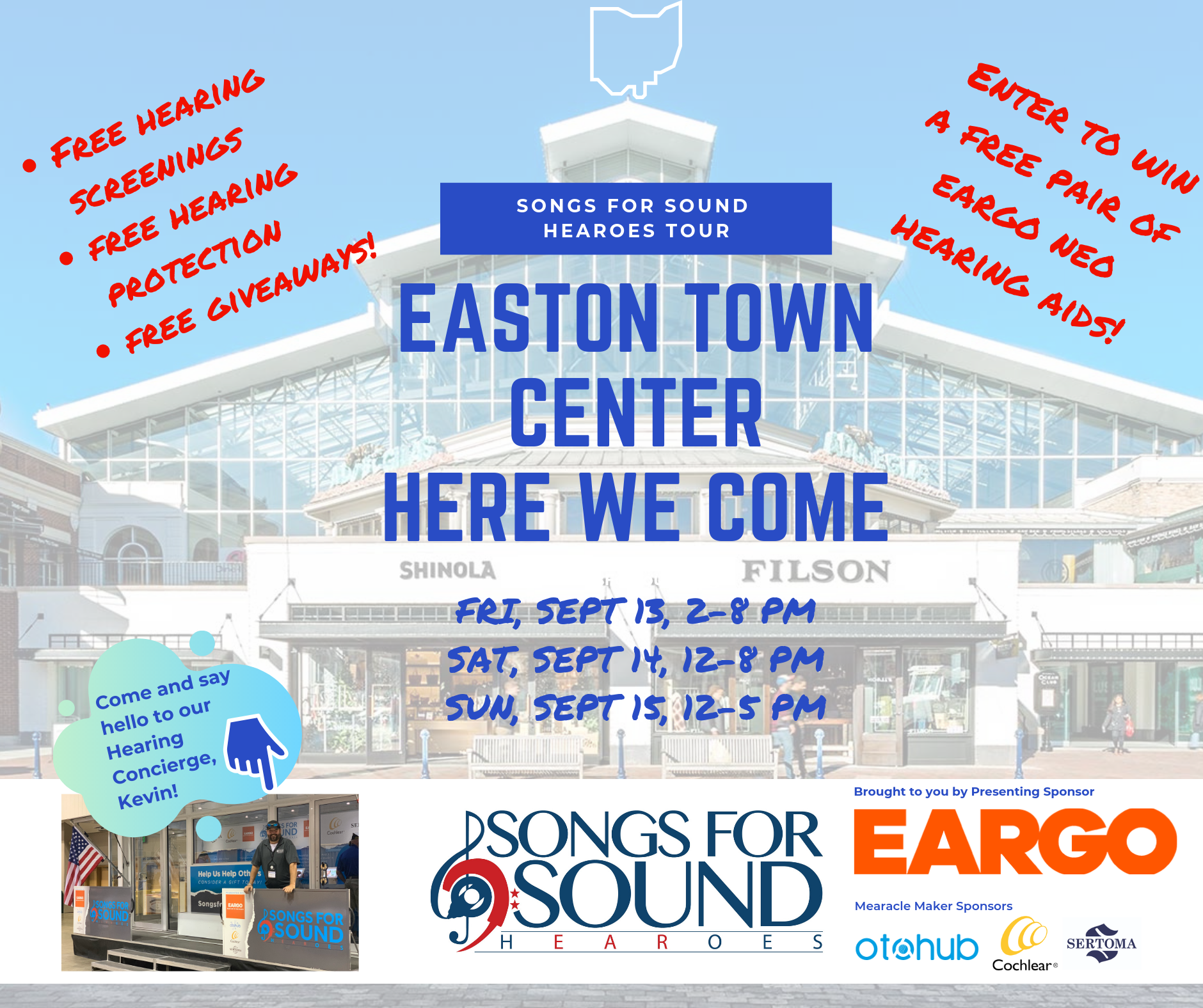 The Hearoes Tour, brought to you by Songs for Sound, formerly known as The Hear The Music Project, is a full service hearing health experience touring America. Sponsored by Eargo, a hearing aid company with an affordable, nearly invisible hearing aid, the Hearoes experience offers 12 months of touring and over 200 events coast to coast. It's unheard of, there's no tour like this in the country. The Hearoes Tour stops at large events on most weekends like festivals, air shows and expos. During the week, it makes stops at community organizations such as smaller festivals, YMCA locations, Boys and Girls Clubs, Del Webb communities, veterans organizations and senior centers. 
The tour will make a landmark stop at Easton Town Center Sept. 13 - 15 as Easton partners with Songs for Sound to bring this free service to its community and guests. 
Founder Jaime Vernon, a Columbus native now living in Nashville, shares her passion for hearing loss, "My daughter's deafness was missed. Multiple check points in her hearing healthcare and she was continually passed on as 'fine, she'll talk soon'. Ma Ma and Da Da never came. Lexi wasn't responding to simple noises like a doorbell, dog barking or a fire alarm. After pushing our way to an Audiologist, we received devastating news 'your child is deaf'. By two years of age, Lexi had received a bilateral cochlear implant surgery and began saying those first words. Her very first words? 'Ma Ma'. It was the BEST day of my life!"
Vernon continues, "I want every American to have awareness and access to QUALITY hearing healthcare. I want Americans to know how important hearing and spoken language is. I want to encourage all Americans to take ACTION. What better place to do that than in my very own hometown, Columbus (Summit Station), Oh?"
Aboard the multi-faceted hearing health experience, guests receive a state-of-the-art free hearing screening through the Otokiosk software sponsored by Otohub, receive free hearing protection, printed results, emailed digital results, demo Eargo hearing aids and more! Mearacle Maker sponsors Cochlear Americas and Sertoma support by providing clinic finders, resources and volunteers. 
When planning a tour, Songs for Sound asks: WHO NEEDS THESE SERVICES THE MOST? Over 60% of the 24,000 people served have some degree of hearing loss. 38% of children, 68% of Seniors and Veterans (85% of senior veterans) all need a further evaluation with a hearing healthcare professional. 
Americans living in rural communities often don't have access to a hearing healthcare facility or they don't know how to navigate hearing healthcare. Children are not receiving regular hearing screenings, seniors don't know how to access affordable hearing aids. The greatest issues in hearing healthcare? AWARENESS of solutions, ACCESS to testing and devices, AFFORDABILITY of quality hearing devices, and the STIGMAS associated with hearing loss which cripples Americans into taking ACTION. 
Please come join us at Easton Town Center in the square, ages 5 & up are welcome and if you have any trouble hearing, you can demo an Eargo hearing aid and even touch, feel a cochlear implant. 
A FULL LIST OF COLUMBUS EVENTS:
Sept 6-8 - Dispatch's Home & Garden Show
Sept 11th - Hilltop YMCA
Sept 13-15 - Easton Town Center
Sept 18 - Milo-Grogan Clubhouse
Sept 19 - Reynoldsburg Senior Activity Center
Sept 21st - The Ohio State University, Football Game - Fan Experience
Sept 24th - Jerry L. Garver YMCA
Sept 25th - Eldon and Elise Ward Family YMCA
Sept 28th - Grove City YMCA Health Fair
Locations/Times visit HERE.
###