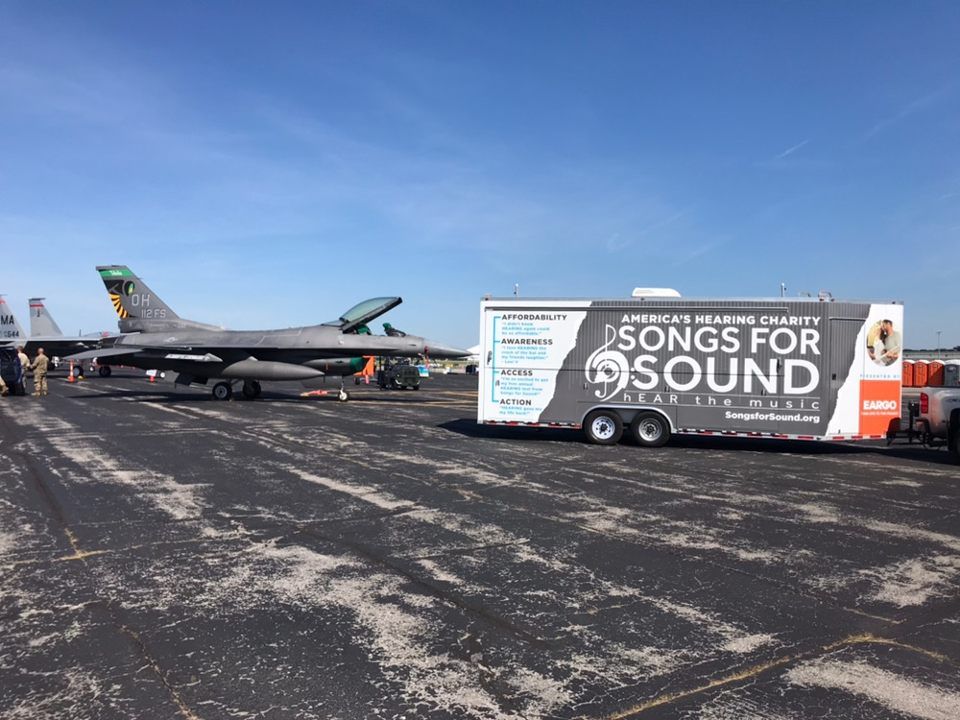 The Hearoes Tour, brought to you by Songs for Sound, formerly known as The Hear The Music Project, is a full service hearing health experience touring America. Sponsored by Eargo, the experience offers 12 months of touring and over 200 events coast to coast. It's unheard of, there's no tour like this in the country. The Hearoes Tour stops at large events on most weekends like festivals, air shows and expos. During the week, it makes stops at community organizations such as smaller festivals, YMCA locations, Boys and Girls Clubs, Del Webb communities, veterans organizations and senior centers. 
Founder Jaime Vernon shares her passion for hearing loss, "My daughter's deafness was missed. Multiple check points in her hearing healthcare and she was continually passed on as 'fine, she'll talk soon'. Ma Ma and Da Da never came. Lexi wasn't responding to simple noises like a doorbell, dog barking or a fire alarm. After pushing our way to an Audiologist, we received devastating news 'your child is deaf'. By two years of age, Lexi had received a bilateral cochlear implant surgery and began saying those first words. Her very first words? 'Ma Ma'. It was the BEST day of my life!"
Vernon continues, "I wanted every American to have awareness and access to QUALITY hearing healthcare. I wanted Americans to know how important hearing and spoken language is. I wanted to encourage all Americans to take ACTION."
This year, The Hearoes Tour kicked off in the GREAT LAKES region. After a first stop at the Toledo Air Show, it then headed to Michigan for a month of serving. Aboard the multi-faceted hearing health experience, guests receive a state-of-the-art free hearing screening through the Otokiosk software sponsored by Otohub, receive free hearing protection, printed results, emailed digital results, demo Eargo hearing aids and more! Mearacle Maker sponsors Cochlear Americas and Sertoma support by providing clinic finders, resources and volunteers. 
When planning a tour, Songs for Sound asks: WHO NEEDS THESE SERVICES THE MOST? Over 60% of the 24,000 people served have some degree of hearing loss. 38% of children, 68% of Seniors and Veterans (85% of senior veterans) all need a further evaluation with a hearing healthcare professional. 
Americans living in rural communities often don't have access to a hearing healthcare facility. Children are not receiving regular hearing screenings, seniors don't know how to access affordable hearing aids. The greatest issues in hearing healthcare? AWARENESS of solutions, ACCESS to testing and devices, AFFORDABILITY of quality hearing devices, and the STIGMAS associated with hearing loss which cripples Americans into taking ACTION. 
When Songs for Sound decided where to kickoff, Michigan, Ohio, Indiana were at the top of the list. The Midwest offers great festivals with large attendance of great Americans. Many midwesterners live in vast rural communities with little access to a hearing facility. Songs for Sound saw a need and wanted to help out. 
So this weekend, The Hearoes Tour will be offering the hearing health experience at the St. John's Mint Festival  in St. Johns, Michigan. For more information, visit their Facebook Page and come get your family's hearing checked! 
Songs for Sound has teamed up with presenting sponsor EARGO to make sure you have affordable access, nearly invisible devices, quality hearing and a hearing professional who can help you over the phone! 
1. Be a part of our movement.
2. Hear the World Around you or Help a Family Member.
3. Afford hearing healthcare and start now with your FREE HEARING SCREENING. 
4. Receive FREE hearing protection!
5. Pay it forward -- each time you purchase a set of Eargo invisible hearing aids, Eargo will DONATE a pair to a Veteran or someone on our Jamaica Deaf Missions. 
For a FULL listing of dates and locations, visit our TOUR CALENDAR.
To become a PARTNER and host a HEAROES TOUR EVENT, sign up HERE.
###
Songs for Sound is a 501c3 non-profit service organization. The mission is to provide awareness, access and encourage action to Americans living with hearing loss. To learn more about Lexi's story, access resources and checklists to help a family member; or learn more about hearing health, visit SongsForSound.org.