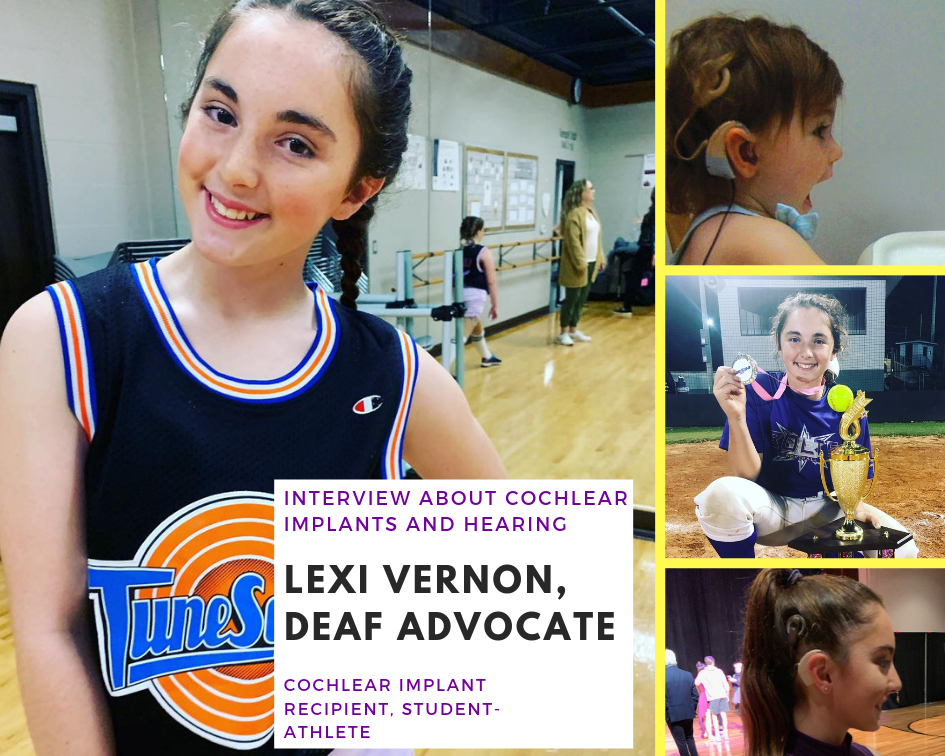 In 2009 closing in on 2 years old, after desperate attempts to get answers for over a year, Lexi was implanted bilaterally with cochlear implants. My little girl went from deafness to sound and still to this day, I do not miss an opportunity to thank God for this miracle. 
I had no idea Lexi would turn into who she is today. She is an accomplished fastpitch pitcher, she is on a dance team, swims and plays basketball. She is also an honor roll student. Her softball team, the Birmingham Thunderbolts, are a top team in the country, and I'm blown away watching her composure as a pitcher on the mound. She is so resilient and I don't think it's because she's deaf. I think it's because she's OVERCOME deafness. 
The day we finally received the news "Lexi is deaf", I never dreamed she would use spoken language, much less hear her cheering the same long, loud cheers in the dugout with her teammates with clear speech. I never dreamed she would jam out to music. In 2009, I never dreamed she would be an honor roll student. I knew nothing of deafness and hearing loss or speech rehabilitation. That's when Lexi took over with her team of therapists and doctors. They all quickly made a believer out of me!
Learning to hear and talk after being deaf and mute is NOT like putting glasses on. It is more like training for the Olympics, which is why I'm so excited to share Lexi's view as to why it's so important to HEAR.
Because of Lexi's story, our family launched the nationally recognized 501c3, Songs for Sound, our mission and charity. OUR CALLING. 
This month, May, is Better Hearing and Speech Month. So, what better way to help others move into their own hearing journey than ask the girl herself? Someone who lives both in a world of silence and a world of sound. Here we go:
Jaime: "LEXI, I'm going to ask you some questions for Better Hearing and Speech Month."
Lexi: "Why?"
Jaime: "So we can help others hear and make the decision to get help, go to an Audiologist and choose hearing aids or cochlear implants."
Lexi: "Who wouldn't do that?"
(And here we go...)
Jaime: "Lex, what is your FAVORITE sound?"
Lexi: "Easy. Music."
Jaime: "What is it like when you can't hear?"
Lexi: "It's kind of hard to explain. It's hard to know where I'm at sometimes. Also, even though I can't hear anything, I feel things more when I'm not hearing."
Jaime: "Why do you think hearing is so important in things you love in life?"
Lexi:
"SPORTS: I'm a pitcher, so it's great to hear when I miss a pitch up the middle. I can hear it being hit and many times that's right back to me. I'm safer when I can hear in the games. But, I also know I shouldn't miss up the middle, mom hahaha. (I train Lexi and she knows better.)
SCHOOL/LEARNING: I have to be able to hear my teachers to be able to learn. That would be horrible if I couldn't hear them.
FRIENDS: Hearing laughter is my favorite thing to do with my friends. It's how I connect with my them. I love to laugh!
Jaime: "What would life be like without your cochlear implants and the gift of hearing?"
Lexi: "Blank. Very blank."
Jaime: "What would you tell others who need to get help and are scared or nervous?"
Lexi: "It's worth it. I promise. It's not easy, but it's so worth it because you can hear others and you don't have to keep saying 'what or huh?'; Other people will quit saying 'never mind' to you. You can hear your friends laugh and hear music. Who wouldn't want that?"
Jaime: "Finally, you wear Cochlear Americas cochlear implants. What's the coolest feature of your cochlear implants?"
Lexi: "The aqua accessory for swimming and using the mini mic. My swimming training is so much better when I can hear my swim coach! I also love hearing music, so I'm excited to upgrade to the N7 hopefully soon. They say music sounds even better on the N7. The crowd setting is pretty cool. When I'm in a crowd, my processor turns down the background noise and I can hear the person talking more clearly than I used to." (Lexi is referring to the scan technology and settings that optimize different listening environments.)
Visit SongsForSound.com for more information on hearing health, get a free hearing screening aboard our Hear the Music Project, book an appointment with an Audiologist in your area, learn about hearing aids and cochlear implants.