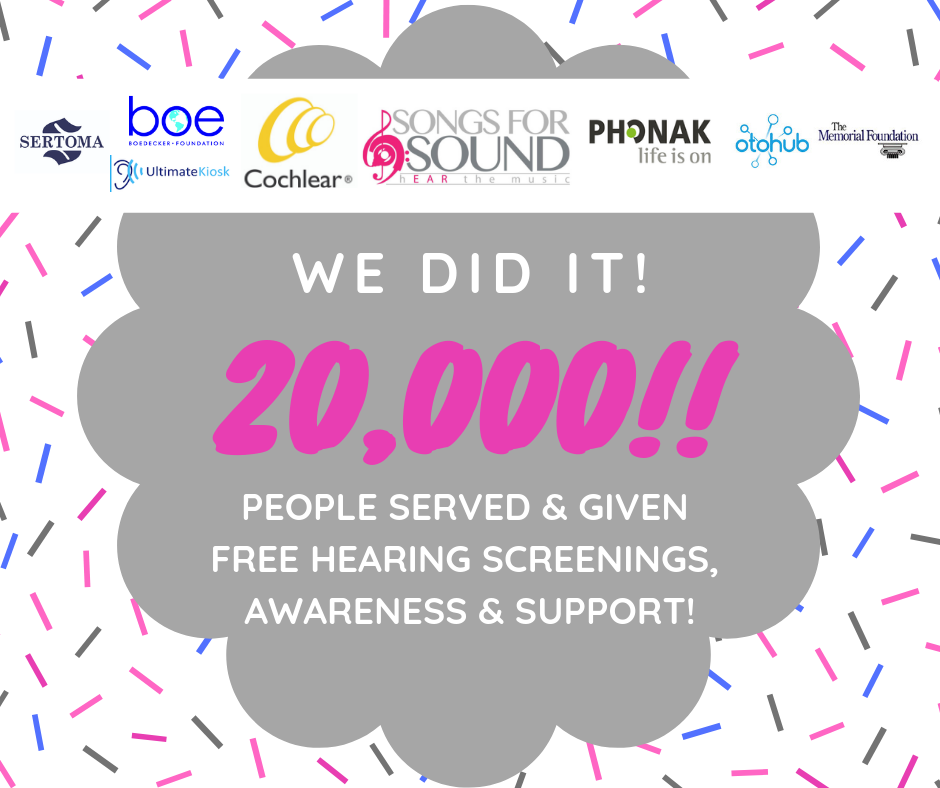 20,000 PEOPLE GIVEN FREE HEARING TESTS. 20K in just 3.5 years. 20K because of a little girl, a passionate mom and some of the most loyal sponsors and donors in the world. Whether you've given $20 or $200,000, this is for YOU. Thank you. Congratulations. You are this mission....ENJOY.
A single story can change the world. Heartache can turn into passion. Pain can most certainly be used for the gain of others. Ask Lexi, an 11-year old who resides in Nashville, Music City. "Lex" lives life every morning waking up in total silence. In fact, recently, a security company went out of their way to try and add additional equipment to help Lexi in a fire; the loudest alarm you could ever hear with normal ears. However, Lexi didn't hear it...at all. (Watch Lexi hear for the first time HERE.)
So to think of pain? Imagine never hearing your mom's voice. Imagine not hearing your brother's giggle. Imagine never hearing the crowd cheer for you playing your favorite sport. Imagine never hearing music. Never hearing the spoken voice. Imagine not knowing what God's whisper sounds like because you've never heard any whisper. 
Lexi was born profoundly deaf. But guess what? Lexi can HEAR. Sure, she starts each day in total silence. Lexi also goes to bed in total silence. Lexi takes a hearing break here or there during the day and goes from hearing a whisper to not hearing a jet engine if it flew by her head. 
"I'm so confused," you're likely asking yourself. How can she hear? Lexi received a miracle. A miracle that many are still void of even knowing about. Lexi is the recipient of cochlear implants, a surgically implanted device that restores sound to the deaf! Thanks to amazing doctors, the team at Vanderbilt Bill Wilkerson Center, Cochlear Americas (leader in implantable hearing technologies and maker of her miracle device), after she was missed repeatedly by healthcare professionals who said she was "fine", Lexi was finally diagnosed as being profoundly deaf. She couldn't talk, respond to any noise and was becoming distant, checked out to all of us. But here's the miracle which is changing the world. 
Now, Lexi is like any other kiddo. After much speech therapy, a ton of work at home and still tutoring for the time she was void of sound, Lexi ROCKS life. Typical school, typical speech, typical academic performance, incredible athlete, outstanding socially. 
That surgery was back in 2009. TEN YEARS LATER, Lexi's story is being told all over the United States. Lexi's family has a charity, Songs for Sound. Kids camps for families with hearing loss, fundraising and awareness events, support for military and vets ... but the most notable achievement? SONGS FOR SOUND HAS SUCCESSFULLY PROVIDED 20,000 FREE HEARING EXAMS and CONSULTATIONS! 
The goal, end game? Moving Americans into a healthy hearing conversation. Telling Americans how important hearing is (awareness), providing free testing (access) and moving those with hearing loss into a full Audiology appointment locally where they lives and possibly into hearing technology (action). 
They achieve this by a mission and outreach program called The Hear the Music Project. Jaime, Lexi's mom, was so burdened that Lexi never responded to her lullaby that she wanted to use music--and the beauty of hearing it-- as a conversation starter to get people to stop and think about their hearing; and do something about it. She wanted moms to stop and have their child tested. You see even a mild hearing loss can cause a child to miss out on 40% of classroom instruction! Kids are misdiagnosed with many disorders such as ADHD and more...when all they needed was a hearing test. 
Sponsored by long-time presenting sponsor Cochlear Americas and long-time supporter Phonak, The Hear the Music Project also supports senior citizens. Cognitive decline and lower brain function is directly related to not doing something about hearing loss. Jaime knows how important our parents and grandparents are to us. She wanted to provide a way to go to seniors and help them. Senior citizens, our grandparents, parents, aunts and uncles, have given us so much. "It's the right thing to do," says Jaime.
The Hear the Music Project also serves Veterans. In fact 85% of senior veterans and 65% of all age veterans do not pass the hearing test given by Songs for Sound and partner, Otohub, a leader in mobile hearing tests administered on iPads. 
What is it, though? IT'S A MISSION. It's an experiential marketing machine mixed with love in the charity sector. Jaime's background is marketing, sales and even development. Jaime combined all of those gifts, her passion for ears and worked with some of the brightest minds to create a tour which takes a mobile, appealing, eye-catching clinic to Americans. 
"Awareness, Access and encouraging Action is our mission." notes Jaime. 
So today, we celebrate 20,000 free hearing tests provided. We celebrate a little girl who conquered everything; who is playing very competitive sports at the travel level and sounds like every other 11 year old. We celebrate LEXI for achieving the amazing in academics and being the most socially enlightening & happy little girls... who also gave us a mission. We celebrate a family who embraced their God-given story and changed the world.