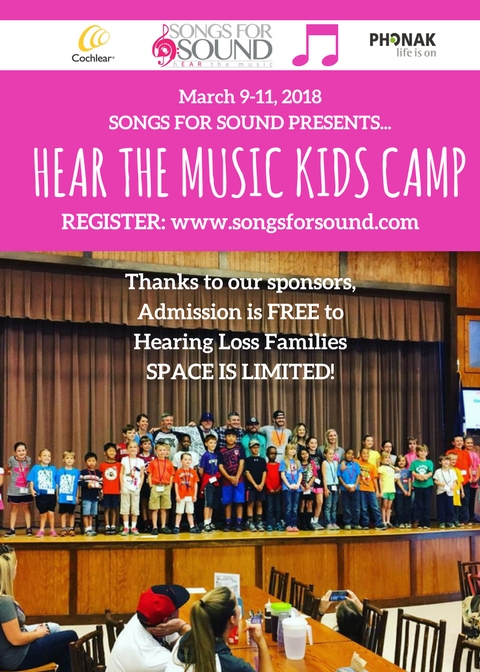 2nd Annual HEAR THE MUSIC KIDS CAMP
Join us in Scottsville, KY for our annual Hear the Music Kids Camp! 
Why the camp? We believe families living with hearing loss and deafness need time to both recharge and get up to date on all the technology changes, therapies and health insurance. Kids will have fun the entire time playing sports, bowling, swimming, horseback riding and EVEN HELPING TO WRITE THE SONGS FOR SOUND THEME SONG with some of Nashville's best songwriters! Therapy is engrained in this fun weekend. Parents will get to hang with each other, share, cry, laugh and enjoy. Kids make new friends and the best part? IT'S FREE! Camp is covered by our amazing support from Phonak, Cochlear Americas and The Boedecker Foundation!
When is the camp? March 9-11, 2018
Where is the camp? Scottsville, KY at the Center for Courageous Kids beautiful facility! 140+ acres of amazing!
How do I sign up? SPACES ARE LIMITED! Don't delay. Visit this link and get started. It's a two-step process, so make sure you get your medical information in under Part II!
REGISTER FOR THE HEAR THE MUSIC KIDS CAMP TODAY!
What else can I expect? Camp begins late afternoon on Friday, March 9th and will resume Sunday around noon. All meals are provided "camp style"! The food is amazing. More information on allergies can be found at the registration link.
The living quarters are top-notch! You can also see more photos at the link above.
All of the facility is designed for any child's special needs! For example, the pool is a zero entry pool and always above 80 degrees. 
You really don't want to miss out! 
For more questions, please email Kelly Walker at kwalker@songsforsound.com.